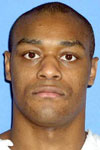 Update: Monday, October 19, 2015  10:52 am  EDT
Julius Jerome Murphy was scheduled to be executed at 6 pm CST, on Tuesday, November 3, 2015, at the Walls Unit of the Huntsville State Penitentiary in Huntsville, Texas.  His execution has been stayed.  Thirty-six-years-old Julius is convicted of the murder of 26-year-old Jason Erie on September 19, 1997, in Texarkana, Texas, during a robbery.  Julius has spent the last 17 years on Texas' death row.
Julius was raised by his mother and had three other siblings.  Julius alleges he never knew his father and lacked a positive male influence while growing up.  Julius dropped out of school following the eighth grade.  Prior to his arrest, Julius worked as a warehouseman, food service provider, and laborer.  By his own admission, Julius also sold drugs to make money. 
On September 18, 1997, Julius Murphy, along with several friends drank a large amount of alcohol and smoked marijuana.  Early in the morning of September 19, 1997, the group was driving around Texarkana, Texas, when they came across a stranded motorist, Jason Erie, who was having car problems.  Murphy and his friends initially drove by Jason, but they went back to help after someone suggested that they "jack" or rob the stranded driver.
Murphy and his friends helped Jason jump-start his vehicle.  For their help, Jason provided a small reward.  Murphy returned to his vehicle and retrieved a gun.  Murphy aimed the gun at Jason and demanded that he hand over his wallet.  Jason initially refused, but was beginning to comply, Murphy shot him once in the head.  Murphy then grabbed the fallen wallet before he and his friends left.  Jason was found alive, but died a short time later.
This is not Julius Murphy's first execution date.  A previous executed date was stayed in order to evaluate claims that he lacked the mental competency to be executed.  His November 3, 2015, execution has been stayed by the Texas Court of Criminal Appeals.  It was stayed in order to allow time to investigate claims that during Julius' trial, the prosecution threatened and coerced witnesses into testifying against Julius.
Please pray for peace and healing for the family of Jason Erie.  Please pray for strength for the family of Julius Murphy.  Please pray that if Julius is innocent or lacks the competency to be executed, evidence will be presented prior to his execution.  Please pray that Julius will come to find peace through a personal relationship with Jesus Christ, if he has not already found one.