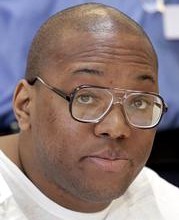 Update: Monday, October 19, 2015  10:55 am  EDT
Terrick Terrell Nooner was scheduled to be executed at 9 pm CST, on Tuesday, November 3, 2015, at Cummins Unit near Varner, Arkansas.  His execution has been stayed.  Forty-four-year-old Terrick is convicted of the murder of 22-year-old Scott Stobaugh on March 16, 1993, in Little Rock, Arkansas.  Terrick has spent the last 22 years on Arkansas' death row.
Terrick's execution was scheduled by Pulaski County Circuit Court Judge Wendell Griffen.  The stay was granted to allow time for Terrick, along with several other inmates scheduled for execution, to argue that a law preventing the release of the name, or names, of those who provide execution drugs violates state law.
Terrick was raised by his step-father from the age of two.  Terrick had a good relationship with his step-father.  Terrick had spent times in a juvenile facility for behavioral problems.
On March 16, 1993, college student Scott Stobaugh, around 1:30 am, entered a laundromat in Little Rock, Arkansas.  Later that morning, Scott was found dead, shot seven times.
Three video cameras recorded parts of the tragedy that night.  A second man, later identified as Terrick Nooner, was seen entering the laundromat shortly after Scott entered.  Nooner is seen confronting Scott and forcing Scott towards the back of the laundromat.  No video camera was focused towards the back and the other cameras only caught pieces of Scott's assault and murder.  Nooner was seen taking $20 and a checkbook.
The video cameras quality was also poor, which made identification difficult.  Approximately 10 days after Scott's murder, police received a tip from another criminal, Robert Rockett, that Nooner was responsible for the murder.  Rockett told police that he had been driving with Nooner the night of Scott's death.  Nooner told Rockett to pull over after seeing Scott enter the laundromat alone.  According to Rockett, Nooner forced Scott to the back of the laundromat, shot him seven times, kicked him, took his checkbook, social security card, and $100 cash.  Rockett also claimed that Nooner used a .22 caliber Ruger they had previously stolen.  Rockett eventually pled guilty for his part in Scott's murder.
Although Rockett's testimony was not used in Nooner's trial, four other acquaintances did testify.  Nooner had told two of the witnesses about the murder, while the two others identified Nooner from the surveillance tapes.  A fifth witness testified that Nooner was at his home at the time of the murder.
Please pray for peace and healing for the family of Scott Stobaugh.  Please pray for strength for the family of Terrick Nooner.  Please pray that Terrick is innocent or lacks the competency to be executed that evidence will be presented prior to his execution.  Please pray that Terrick will come to find peace through a personal relationship with Jesus Christ, if he has not already.