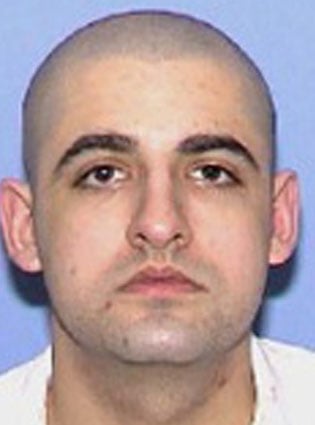 Updated: Tuesday, September 5, 2017  10:50 am EDT
Juan Edward Castillo was scheduled to be executed at 6 pm CDT, on Thursday, September 7, 2017, at the Walls Unit of the Huntsville State Penitentiary in Huntsville, Texas.  His execution has been stayed.  Thirty-six-year-old Juan is convicted of the murder of 19-year-old Tommy Garcia, Jr., on December 3, 2003, in San Antonio, Texas.  Juan has spent the last 11 years of his life on Texas' death row.
Bexar County District Attorney's Office was granted their requested that Juan's execution be stayed due to the devastation caused by Hurricane Harvey.  Harvey hit the Houston area particularly hard, with torrential rain and flooding.  In their request, the Bexar County District Attorney's Office noted that several members of Juan's legal defense team lived and worked in the Houston area.  A judge, in granting the request, has also rescheduled Juan's execution for Thursday, December 14, 2017.
Juan had previously worked as a cook and a laborer.  He was previously convicted of deadly conduct with a firearm.  During the trial, witnesses also testified that Juan was a violent man, threatening and beating the mother of his child.  Additionally, he had previously shot a man during a road rage incident, boasted about similar crimes, and bragged about committing home invasions and robberies.
In December 2003, Juan Castillo was dating Debra Espinosa.  Late on December 2, and during the early morning hours of December 3, 2003, the couple was with Francisco Gonzales, a friend with Castillo, and Gonzales' girlfriend Teresa Quintero.  The four of them created a plan to rob Tommy Garcia, Jr., with who Espinosa had previously been intimate.  
Espinosa was to take Tommy to secluded spot in a residential neighborhood in San Antonio, Texas.  Castillo and Gonzales, in masks and armed with guns, would storm the car and rob Tommy.  Espinosa would play along, as if she were a victim too.  Quintero would serve as the get away driver from Castillo and Gonzales.  During the ensuing robbery, Tommy was shot and killed by Castillo, according to the others.
Gonzales was arrested by the police as he fled from the scene, with Espinosa arrested a short time later.  Both agreed to testify against Castillo in exchange for a reduced charge and a sentence of forty years in prison.  Gonzales and Espinosa testified that Castillo took the lead in planning the robbery.  They also testified that he was the person who shot and killed Tommy.
Some of Gonzales's family members also testified that they heard Castillo confess to the crime and speak of how he hid the evidence.  Two of Tommy's friends testified that they were with him when he received a phone call to meet up with Espinosa.  Shortly thereafter, they received a phone call from a hysterical Espinosa, who said that Tommy had been shot.  Castillo had also been seen wearing a distinctive necklace that Tommy had been wearing the night he was killed.
Castillo was convicted.  During the punishment phase of the trial, Castillo elected to represent himself, a move that was allowed after the court determined Castillo was making a knowing and voluntary decision.  His two appointed attorneys remained as stand-by counsel.  Castillo was sentenced to death.
Please pray for peace and healing for the family of Tommy Garcia.  Pleas pray for strength for the family of Juan Castillo.  Please pray that Juan is innocent, lacks the competency to be executed or should not be executed for any other reason, that evidence will be presented prior to his execution.  Please pray that Juan may come to find peace through a personal relationship with the Lord, if he has not already.