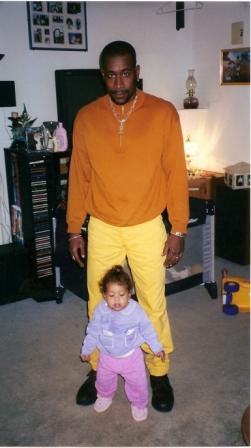 Updated: Monday, November 13, 2017  11:15 am EDT
Junius Burno's execution was scheduled to occur at 7 pm EDT, on Friday, November 17, 2017, at the State Correction Institute Rockview in Rockview, Pennsylvania.  Junius' execution has been stayed.  Junius was convicted of murdering 45-year-old Carlos Juarbe and 35-year-old Oscar Rosado III, on April 13, 2003, in Allentown, Pennsylvania.  Junius has seen the last 10 years of his life on Pennsylvania's death row.
Junius' execution has been stayed by the US District Court for Eastern Pennsylvania.  It was likely stayed in order to allow Junius to complete his appeals.
On April 13, 2003, Mary Meixell called the police saying that she had heard gunshots from next door.  Police arrived at the address provided to discover blood on the front steps and the front door ajar.  The responding officer entered and discovered Carlos Juarbe, the lessee of the residence, lying in the bedroom doorway.  His friend, Oscar Rosado, was lying in the back of the bedroom, curled in the fetal position.
Evidence gathered by the police pointed to Terrence Betha as the suspect.  He was arrested on September 12, 2003, and charged him with murder.  Betha gave a voluntary statement to police which also incriminated Junius Burno.  Betha also alleged that he and Burno were shot at as they fled the apartment.
Betha's wife confirmed to police that on April 13, 2003, Betha and Burno arrived at the house, with Betha having been shot. Both men refused to provide her with any more information.  Betha was taken to a hospital in Philadelphia, where Betha provided false information to the police.
Burno was arrested shortly after Betha's statement.  Burno gave several conflicting reports to the police regarding the murders.  He initial claimed that he was innocent, before confessing to the crime.  A jailhouse informant, who earned a plea bargain for his information, testified against Burno, claiming that Burno confessed to him while in prison.
Burno was sentenced to death on March 6, 2007.
Junius Burno's notice of execution was issued by Department of Corrections Secretary John Wentzel, as Pennsylvania Governor Tom Wolf has refused to sign any execution warrants.  If the Governor does not sign an execution notice within a specified time frame, state law requires the corrections secretary to issue the execution notice.
On Friday, February 13, 2015, Pennsylvania Governor Tom Wolf announced a moratorium on executions in the state, until he receives and reviews a report on capital punishment in the state, a report which was ordered in 2011.  In his announcement, he called the death penalty in Pennsylvania a "flawed system," "ineffective," "unjust," and "expensive."  Read more about the announcement here.  
Please pray for peace and healing for the families of Carlos Juarbe and Oscar Rosado.  Please pray for strength for the family of Junius.  Please pray that Junius may come to find peace through a personal relationship with Jesus Christ, if he has not already.