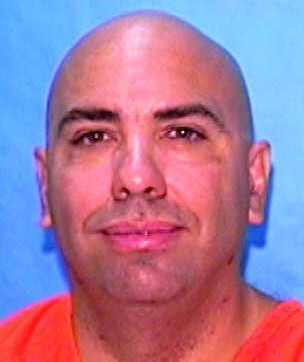 Updated: Monday, August 13, 2018  11:41 am EDT
Jose Antonio Jimenez was scheduled to be executed at 6 pm EDT, on Tuesday, August 14, 2018, at the Florida State Prison near Raiford, Florida.  His execution has been stayed.  Fifty-four-year-old Jose is sentenced to death for the murder of 63-year-old Phyllis Minas in Miami, Florida on October 2,1992.  Jose has spent the last 24 years on death row in Florida.
The Florida Supreme Court unanimously agreed to issue a stay of execution for Jose.  While they did not give a reason for the stay of execution, attorneys for Jose noted in their request for a stay of execution that they received over 1,000 pages of additional documents, including handwritten notes by investigators, that relate to the case.  This new information, which attorneys for Jose have never previously had access to, was released just two weeks before the execution.  Jose has always insisted upon his innocence.  According to Jose's lawyer, the handwritten notes contradict the testimony given by investigators at the trial.
On October 2, 1992, Jose Jimenez entered the home of Phyllis Minas, located in a north Miami apartment complex.  Jimenez was also a resident of the apartment complex.  Once Jimenez was inside, he beat and stabbed Phyllis.  A neighbor heard her screaming "Oh God, Oh my God!" during the attack and attempted to enter the apartment through the open front door.  As they were entering, Jimenez slammed the door shut and locked it.  The neighbor called the police.
Jimenez exited the apartment by going out onto a balcony, where he jumped to a neighboring balcony before jumping to the ground.  A custodian witnessed a man, whom he later identified as Jimenez, drop to the ground from the balcony.  Jimenez changed his clothes and cleaned himself up before re-entering the complex and asking someone to use their phone to call a cab.  
When rescue workers arrived at Phyllis' apartment, she was still alive.  She died a short time later.  Jimenez was arrested on October 5, 1992, at his parents home in Miami.  His fingerprints had been found inside Phyllis' apartment.  He was tried, convicted, and then sentenced to death in December 1994.  The juries decision was unanimous.
Following his death sentence, Jose was also charged and convicted of second-degree murder of Marie Debas, robbery with a deadly weapon, and burglary with assault for a crime that occurred on October 19, 1990.  For that crime he was sentenced to a total of 49 years in prison.
Please pray for peace for the family of Phyllis Minas and Marie Debas.  Please pray for strength for the family of Jose Jimenez.  Please pray that if Jose is innocent, lacks the competency to be executed or should be executed for any other reason, that evidence will be presented prior to his execution.  Please pray that Jose may come to find peace through a personal relationship with Jesus Christ, if he has not already.