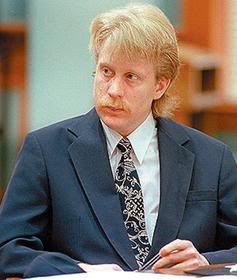 February 20, 2018
Russell Earl Bucklew is scheduled to be executed at 6 pm CST, on Tuesday, March 20, 2018, at the Eastern Reception, Diagnostic and Corrections Center in Bonne Terre, Missouri.  He has been granted a stay of execution.  Forty-nine-year-old Russell is convicted of killing 27-year-old Michael Sanders on March 21, 1996, at Hickory Hollow trailer park in Cape Girardeau County, Missouri.  Russell also kidnapped, beat, and raped 21-year-old Stephanie Pruitt.  Russell has spent the past 14 years on Missouri's death row.  
Russell Bucklew, a former electrician, met Stephanie Pruitt in the summer 1995, while she was married to another man, with whom she had two children.  By fall of 1995, Stephanie was divorced and dating Bucklew, whom she knew as Rusty.  Around Christmas, Stephanie discovered she was pregnant, however, she lost the baby on Valentine's Day and the relationship between Stephanie and Bucklew was over.  Stephanie claims they broke up and Bucklew moved back into his parent's house.  Bucklew said they just needed a few days apart to cool off.  
When Bucklew returned, he discovered that Michael Sanders was now living with Stephanie in Bucklew's trailer.  Bucklew was furious and put a knife to Mike's throat, telling him to get out or he would kill him.  Stephanie moved in with Mike a few days later.  
Stephanie and Bucklew had another confrontation when she retrieved some of her clothes from Bucklew's trailer.  Stephanie, chained to a bed, agreed to meet Bucklew on March 21, 1996, and leave with him.  Bucklew let her go.  On March 21, 1996, Bucklew, after stealing guns, handcuffs, duct tape, and a car from his cousin, secretly followed and watched Stephanie all day.  His goal was to catch her with Mike.  When he saw return to Mike's trailer, he decided that she was not going to meet him and decided to kill Mike and kidnap her.