Daily Bible Reading for February 23, 2014: 1 Corinthians 1-2
Click here for the Daily Reading.
Author: Paul
Date: AD 55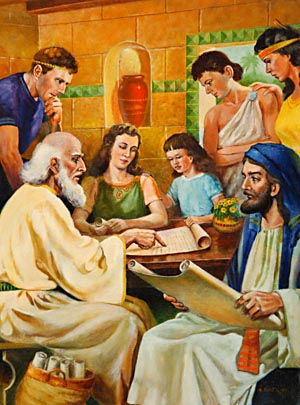 Context and Meaning: Paul briefly greets the church and addresses his reason for writing: division among them regarding who they follow.  Paul reminds them they were led to salvation through Jesus Christ.  Most of the Corinthians Paul is writing to were not wealthy or considered elite.  God was able to take them, mold them, and use for His purpose.  They should not be prideful for the things the Lord has done.  Wisdom is revealed by God, through the Holy Spirit, to the spiritually mature.  God's wisdom is not simply knowledge that comes with age.  That is the world's false wisdom.  The world's wisdom is arrogant.  The world's wisdom is prideful.  The world's wisdom is people thinking they are smarter than they actually are.  True wisdom can only be obtained through those who seek the mind of Christ.
World History: Paul wrote 1 Corinthians from Ephesus, in response to reports of quarrels within the church and to prepare them for a visit from Paul and Timothy.  Corinth's history can be traced back to early Greek history.  During the Peloponnesian War in the late 5th century BC, Corinth fought against Athens.  Corinth fought, unsuccessfully, against Rome in the 2nd century BC.  In 146 BC, Corinth was captured and demolished.  It would remain deserted until Julius Caesar decided to create a colony there, nearly 200 years later.  Corinth was a port city located along the narrow isthmus joining Peloponnese to the mainland.  Corinth became the residence for the Roman governor of the senatorial province of Achaia.  The city also attracted members of elite families.  Paul helped to establish the church at Corinth after his visit to Macedonia and Athens.  He remained in Corinth for around 18 months.