Daily Bible Reading for March 2, 2014: 1 Corinthians 3-4
Click here for the Daily Reading.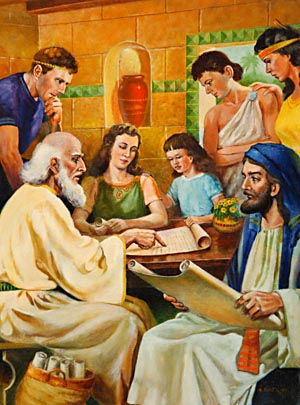 Context: Chapter 3 begins with a repeat of an earlier criticism by Paul; that of division in the church based upon who they proclaim to follow.  They were treating the leaders of the church as celebrities.  Celebrities seek power to have others serve them, true leaders should seek to serve others.  The Corinthians were applying worldly wisdom to the church.  They did not have true wisdom.  When viewed through Jesus Christ, worldly wisdom becomes foolish.  All Christians follow Jesus Christ, not the person who led them to Christ.  The leaders unite the church, not divide it.  Through the use of sarcasm, Paul turns the tables on the Corinthians' attitude.  He did not do this to shame the Corinthians, but the show them the error of their thinking.  He was not doing it to be cruel, but out of love.  Paul further demonstrates his love for them by sending Timothy, perhaps along with the letter, to help them grow and mature in Christ, so that they will no longer be considered infants.  Paul also spoke of returning to Corinth.  It was a warning to those speaking out against him.  Paul had the power of the spirit and could back up his words, could they?
World History: Paul helped to found the church at Corinth and was distressed to hear what had become of them, hence his letter.  The Corinthians had not walked away from their worldly ways and instead tried to keep and incorporated them.  They had failed to understand that being a Christian involves sacrifices, including their worldly ways.