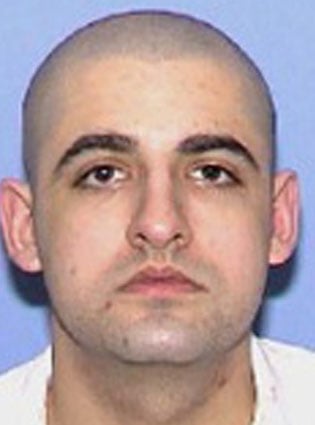 Updated: Monday, August 14, 2017  10:53 am EDT
Juan Edward Castillo is scheduled to be executed at 6 pm CDT, on Thursday, September 7, 2017, at the Walls Unit of the Huntsville State Penitentiary in Huntsville, Texas.  Thirty-six-year-old Juan is convicted of the murder of 19-year-old Tommy Garcia, Jr., on December 3, 2003, in San Antonio, Texas.  Juan has spent the last 11 years of his life on Texas' death row.
Juan had previously worked as a cook and a laborer.  He was previously convicted of deadly conduct with a firearm.  During the trial, witnesses also testified that Juan was a violent man, threatening and beating the mother of his child.  Additionally, he had previously shot a man during a road rage incident, boasted about similar crimes, and bragged about committing home invasions and robberies.
In December 2003, Juan Castillo was dating Debra Espinosa.  Late on December 2, and during the early morning hours of December 3, 2003, the couple was with Francisco Gonzales, a friend with Castillo, and Gonzales' girlfriend Teresa Quintero.  The four of them created a plan to rob Tommy Garcia, Jr., with who Espinosa had previously been intimate.  
Espinosa was to take Tommy to secluded spot in a residential neighborhood in San Antonio, Texas.  Castillo and Gonzales, in masks and armed with guns, would storm the car and rob Tommy.  Espinosa would play along, as if she were a victim too.  Quintero would serve as the get away driver from Castillo and Gonzales.  During the ensuing robbery, Tommy was shot and killed by Castillo, according to the others.
August 13, 2017
Gary W. Otte is scheduled to be executed at 10 am EDT on Wednesday, September 13, 2017, at the Southern Ohio Correctional Facility in Mansfield, Ohio.  Forty-five-year-old Gary is convicted of the murder of 61-year-old Robert Wasilkowski on February 12, 1992, and for the murder of 45-year-old Sharon Kostura on February 21, 1992, both in Parma, Ohio.  Gary has spent the last 24 years of his life on Ohio's death row.
Gary allegedly had a troubled childhood.  He was depressed and began using drugs at an early age.  Gary had difficulty fitting in with other children, as noted by his grade school teachers.  As an adult, he frequently drank alcohol and used cannabis and cocaine.
On February 11, 1992, Gary Otte stole a 1962 Chevrolet Impala and a .22 revolver from his grandfather in Terre Haute, Indiana.  He also stole two credit cards from his aunt and uncle.  The following day, Otte arrived in Parma, Ohio, where he attempted to use the credit cards, only to have them confiscated at the stores when they were identified as having been stolen.
Otte then went to visit his friend Mike Carroll, who lived with his fiancee Jerry Cline, in Parma.  Jerry was not at the apartment, but Otte found him at a local bar.  Otte asked if Jerry was "still robbing people."  Jerry told Otte about two people he planned to rob near his apartment: an old man that lived diagonally across from Mike and Jerry, and a woman who lived one building over.
Otte later returned to the apartment complex alone.  Otte knocked on Mike's door, however the couple was not home.  Otte then knocked on their neighbor's door, Mary Ann Campangna.  When Mary answered, Otte told her that he was looking for Mike because his car had overheated and he needed oil.  When Mary said she did not have any oil, Otte left.