National Back to School Month
Prayer Thoughts for August – Back to School
Daniel and Benjamin grew up together. Later, they attended the same classes. They both wanted to succeed. Daniel spent his free time having daily devotions and praying, while Benjamin spent his free time socializing with others and partaking in the company of women. Daniel carefully chose what he ate and drank, making sure he was honoring the Lord with his choices, while Benjamin overindulged on food and wine. Daniel relied on the Lord for wisdom and understanding, while Benjamin relied on himself and his own knowledge. Daniel excelled in his classes and went on to become successful in all that he did, earning praises and great rewards. He had a loving relationship with his wife and children. There were still times in which he struggled and was persecuted for following the Lord instead of the world, but his faith in the Lord brought him through all of his trials. Benjamin struggled in his career, never finding a job he enjoyed. His relationship with his wife was strained and he barely knew his children. Who are you – Daniel or Benjamin?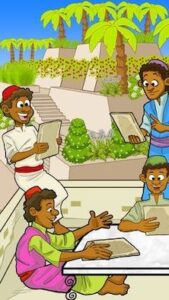 As for these four youths, God gave them learning and skill in all literature and wisdom, and Daniel had understanding in all visions and dreams. At the end of the time, when the king had commanded that they should be brought in, the chief of the eunuchs brought them in before Nebuchadnezzar. And the king spoke with them, and among all of them none was found like Daniel, Hananiah, Mishael, and Azariah. Therefore they stood before the king. (Daniel 1:17-19, ESV)
Daniel and his friends were ripped from their homes, taken captive, and forced into an environment that went against everything they had been taught and believed in. But they did not give up or give in. They continued in their faith, working to serve the Lord, and were intellectually rewarded for their dedication to following the laws of the Lord.
And these words that I command you today shall be on your heart. You shall teach them diligently to your children, and shall talk of them when you sit in your house, and when you walk by the way, and when you lie down, and when you rise. You shall bind them as a sign on your hand, and they shall be as frontlets between your eyes. You shall write them on the doorposts of your house and on your gates. (Deuteronomy 6:6-9, ESV)
August is National Back to School month. We picture children buying supplies and clothes for the new school year. But part of preparing children to go back to school is preparing children to face the world, to stand apart, to be Daniel.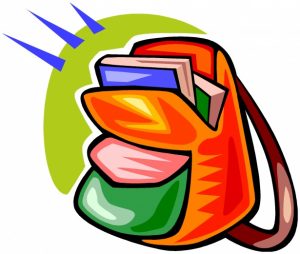 Upbringing is important, as children build upon what they know. Daniel was brought up in the way of the Lord. His parents followed the Lord's instructions in Deuteronomy and sought to serve the Lord every day. When he went out on his own, he was prepared to continue in the way of the Lord. For Benjamin, serving the Lord was a once-a-week activity, occasionally more on special holidays. It was not a way of life. When he went out on his own, his minimal relationship with the Lord was abandoned in favor of worldly pursuits. Is your child prepared to be the Daniel of their school? A trendsetter for God instead of a follower of the world?
And what about adults? Learning does not begin and end in the classroom. Life is a classroom! As adults, we continue to learn new things. Daniel was nearly an adult when he was taken to the king's court in Babylon. It was during Daniel's adulthood that he was challenged for his faith and dedication to the Lord. We also need to ask ourselves, are we Daniel?
Follow the instructions of the Lord and teach your children of Him and His ways. Pray that they may, like Daniel, have the strength to stand for what is right. And consider your own life. Do you need to go back to school? The school of God? Do you stand strong for Him against the world? Be a Daniel!
For more information regarding how your financial support can help, please click here.