Journey 2020: Vision For Christ – Laying the Foundation
The Wise and Foolish Builders
"Therefore everyone who hears these words of mine and puts them into practice is like a wise man who built his house on the rock. The rain came down, the streams rose, and the winds blew and beat against that house; yet it did not fall, because it had its foundation on the rock. But everyone who hears these words of mine and does not put them into practice is like a foolish man who built his house on sand. The rain came down, the streams rose, and the winds blew and beat against that house, and it fell with a great crash." (Matthew 7:24-27, NIV) (Also recorded in Luke 6:47-49)
When was the last time you learned how to do something new? How did you learn? Did you start with the basics, increasing your skills as time went on and your knowledge increased? Or did you jump into the middle of a project, forgoing the basics, only to have the project ruined or made much harder because you failed to do something correctly? This parable asks the same questions!
Every Christian begins their journey with a small seed of God's Word being planted. That seed then grows, but how it grows depends on the nutrients it receives, the foundation on which knowledge and understanding is built. Learning God's Word is just like any other new skill you learn!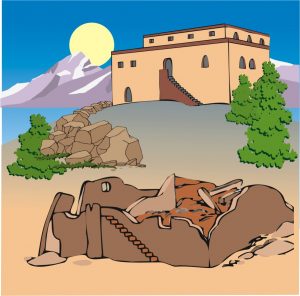 The foundations in this parable, the rock and the sand, is knowledge of God's Word. The rain, the winds, the flowing water, represent the distractions of the world, just as they distracted Peter when he walked on water. If our knowledge God's Word is weak, we will crumble and fall to the distractions of the world. When our knowledge of God's Word is strong, we will be able to stand against the world and its false teachings.
Charles Spurgeon, prolific author and preacher in 19th Century England, once stated, "Nobody ever outgrows Scripture; the book widens and deepens with our years." Knowing God's Word is not a one-and-done deal. Every time you read your Bible, you continue to grow your relationship, strengthen your foundation, water the seed, all of which enable you stand firm in your faith!
What is your foundation? Are you withstanding the distractions of the world?
For more information regarding how your financial support can help, please click here.