Journey 2020: Vision For Christ – Preparing Yourself
Absent Householder
33 Be on guard! Be alert! You do not know when that time will come. 34 It's like a man going away: He leaves his house and puts his servants in charge, each with their assigned task, and tells the one at the door to keep watch.
35 "Therefore keep watch because you do not know when the owner of the house will come back—whether in the evening, or at midnight, or when the rooster crows, or at dawn. 36 If he comes suddenly, do not let him find you sleeping. 37 What I say to you, I say to everyone: 'Watch!'"  (Mark 13:33-37, NIV)
Faithful and Evil Servants
35 "Be dressed ready for service and keep your lamps burning, 36 like servants waiting for their master to return from a wedding banquet, so that when he comes and knocks they can immediately open the door for him. 37 It will be good for those servants whose master finds them watching when he comes. Truly I tell you, he will dress himself to serve, will have them recline at the table and will come and wait on them. 38 It will be good for those servants whose master finds them ready, even if he comes in the middle of the night or toward daybreak. 39 But understand this: If the owner of the house had known at what hour the thief was coming, he would not have let his house be broken into. 40 You also must be ready, because the Son of Man will come at an hour when you do not expect him."  (Luke 12:35-40, NIV)
At the time of Jesus giving these parables, Jesus was still with the disciples, He had not yet died, defeated death, returned to them, and ascended into Heaven.  The disciples did not understand what was yet to come, and they certainly did not understand that Jesus would be returning again!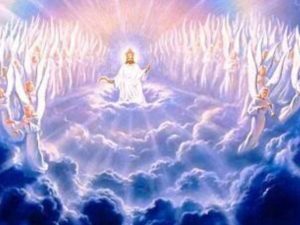 Jesus is the master, the man of house, and we are the servants, waiting for our Master to return.  We do not know when He will return, only that He will return.  When He returns, how will He find you?
The doorman is still to stand guard, letting in only those who are authorized.  The servants still have their work to complete.  Just because the master is away does not mean that they may do whatever they want.  They must be prepared to serve the master upon his return.  How will the master respond to those who have not fulfilled their duties?
How have you prepared for Christ's return?  It is not enough to say you believe in Jesus Christ, and then live your life as you see fit.  You are not prepared.  You have not fulfilled your duties.  The world will provide many distractions, many arguments as to why you should abandon the teachings of Jesus Christ, abandon your responsibilities to Him, and cease preparing for His return.
As willing servants of the Most High, we have been given our tasks in life – we are to be disciples and share God's Word throughout the world!  We are not to sleep, not to simply go through life without purpose and meaning.  We are to share God's word, and our actions are a reflection of our relationship with God.  Will the Master find you sleeping upon His return?  Have your prepared?
For more information regarding how your financial support can help, please click here.