Journey 2020: Vision For Christ – Worth It!
Parable of the Lost Coin
8 "Or suppose a woman has ten silver coins and loses one. Doesn't she light a lamp, sweep the house and search carefully until she finds it? 9 And when she finds it, she calls her friends and neighbors together and says, 'Rejoice with me; I have found my lost coin.' 10 In the same way, I tell you, there is rejoicing in the presence of the angels of God over one sinner who repents."  (Luke 15:8-10, NIV)
In a world of over 7 billion people, it can be easy to feel small, unimportant, and lost in the crowd, especially when looking at the bigger picture of things.  Do my actions really make a difference?, is a question we have all asked at some point in our lives.  With a presidential election coming up in the United States of America, people often question if their vote can really make a difference, really matter.  In our spiritual life, we ask do our prayers really matter?  Does God really listen and respond to everyone?  Is one more prayer, one more person committing their life to Christ, even noticed?  Our parable for study tells us that the answer is a resounding YES!!!!!!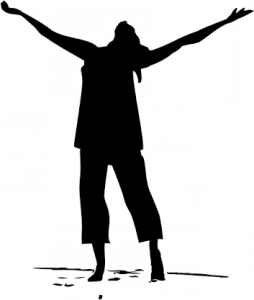 The Kingdom of God – including the great I AM – celebrates every salvation,  God celebrated when you turned your life over to Him!  God celebrates every time you turn to Him in prayer!  God celebrates every time you acknowledge your sin and repent!  God celebrates you!  You are more important to Him than can possibly be imagined!  
In our parable for study, the woman is a saddened when she loses one silver coin – a prized possession.  God is saddened by a single sin, a single sheep wandering away from the flock, a single moment of allowing the distractions of the world to overcome us.  However, the woman is quick to rejoice when she finds her missing coin.  And she does not celebrate alone; she calls her friends and neighbors to rejoice with her!  God celebrates, His entire kingdom celebrates, at the repentance of sin, at the missing sheep returning, at the focus returning to Him!
God is always there for us, waiting for us to search Him out, rejoicing when we do so!  We are precious to Him!  Rejoice!  For we have found the Lord!  If you have not yet accepted Jesus as you Lord and Savior, now is the moment to do so.  Are you the reason for God to celebrate today?
For more information regarding how your financial support can help, please click here.