Happy Birthday President Roosevelt: Theodore Roosevelt, 26th President of the United States
"A through knowledge of the Bible is worth more than a college education." He was the first president to win a Nobel Peace Prize and the first president to study martial arts.  After being injured in a boxing match, he detached his retina. He was the first president to own a car, submerge in a submarine, and ride in an airplane (after he was out of office). A children's toy named after him. He is Theodore "Teddy" Roosevelt, 26th President of the United States of America, serving from September 14, 1901, until March 4, 1909. Theodore, who despised the nickname "Teddy," was born on October 27, 1858, in New York City, New York, to parents who owned a successful plate-glass import business. Theodore was a sickly child resulting in him being homeschooled. Homeschooling helped develop Theodore's love for the outdoors and for animals.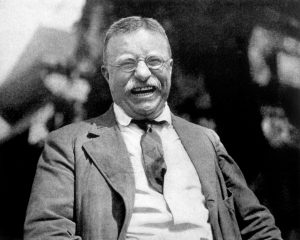 On his 22nd birthday, Theodore married Alice Hathaway Lee. In the same year, 1880, Theodore graduated magna cum laude from Harvard College and then enrolled in Columbia Law School.  However, Theodore started becoming more interested in politics than the law and dropped out of law school. After dropping out, Theodore became a representative for New York City in the New York State Assembly. He was the youngest person to hold that position.
Four years later, on February 14, 1884, Theodore became devastated when Alice died, two days after the birth of their first child. For the next two years, Theodore lived in the Dakota Territory and seriously considered becoming a rancher. During that time, he left his infant daughter in the care of his sister. After two years, Theodore returned, regained custody of his daughter, and ran for mayor of New York, however, he was defeated. Later that year, on December 2, 1886, Theodore married his second wife, Edith Kermit Carow, a childhood friend with whom he had watched the funeral procession of Abraham Lincoln.  
Theodore continued his political pursuits and campaigned for Benjamin Harrison in the 1888 presidential elections. After the election, Theodore was appointed to the United States Civil Service Commission. He remained in that position until 1895.  During his time in the Civil Service Commission, Theodore fought against the spoils system.  He believed political positions should not be granted in return for political support. In 1895, after refusing to run for mayor of New York and regretting the decision, Theodore became president of the New York City Police Commissioners, radically reforming the corrupt New York Police Department.
In 1897, Theodore was appointed by President William McKinley to be Assistant Secretary of the Navy. As the actual Secretary of the Navy had ill health, most major decisions were left up to Theodore. Theodore especially supported the removal of Spain from Cuba to foster the nation's independence and show the United States' support of the Monroe Doctrine.
Theodore took a special interest in the Spanish-American War, which began in April of 1898.  He left politics to organize the Rough Riders, a volunteer cavalry unit composed of individuals from varying backgrounds. Lieutenant Colonel Roosevelt helped train his regiment and led them in the famous charge up San Juan Hill in 1898.  Theodore was nominated for the Medal of Honor and posthumously received the award in 2001.  
Theodore returned to New York City, where he was narrowly (by 1%!) elected governor. In 1899, President McKinley's first Vice-President Garret Hobart died, leading to a search for a new vice-president. Supporters of Theodore encouraged him to go after the position. Opponents also supported Theodore for vice-president, believing it would keep him in check, as the office was largely powerless. Theodore was eventually selected to replace Hobart.   Theodore threw himself into campaigning, helping McKinley win a second term.
On September 6, 1901, President McKinley was shot in Buffalo, New York. President McKinley survived for one week before succumbing to his injuries on September 14. Later that day, Theodore was sworn in as President of the United States. Theodore attempted to live up to McKinley's campaign promises and kept McKinley's staff and cabinet.  Shortly thereafter, Booker T. Washington became the first African-American to dine at the White House, although this caused tension in the South. Personally, Theodore supported desegregation and woman's rights.  Publicly, his administration was not aggressive in its support.
In May of 1902, anthracite coal miners went on strike, which threaten a national energy shortage. President Theodore Roosevelt initially threatened to intervene with federal troops, however, he was able to reach an agreement with the workers. The workers did not unionize as they would have preferred, but they did receive higher pay for fewer hours.
President Theodore Roosevelt was re-elected in 1904, with a landslide victory against Alton Brooks Parker. During his time in office, Theodore maintained a mostly good relationship with the press, providing interviews and photo opportunities nearly every day. During one particularly rainy day in which the press were huddled outside, Theodore invited them into the White House, giving them their own room and beginning the modern-day presidential press briefings.  
The Panic of 1907, or the Knickerbocker Crisis, was a financial crisis that occurred for three weeks, starting in mid-October. Stock prices fell and many businesses declared bankruptcy, including banks. New York's third-largest trust, Knickerbocker Trust Company, collapsed, causing panic. J.P. Morgan convinced other New York bankers to pledge large sums of money to help the banking system and preventing banks from collapsing. This panic eventually led to the creation of the Federal Reserve System.
One of Theodore's most prominent and longest-lasting works was in the conservation of natural resources. Theodore established the United States Forest Service and signed into law the creation of five National Parks. Working closely with Gifford Pinchot, who has a park named after him in Pennsylvania, Theodore established 51 Bird Reserves, four Game Preserves, and 150 National Forests.  This greatly increased the amount of land under federal protection.
Internationally, President Theodore Roosevelt increased the size of the US Navy and saw the completion of the Panama Canal. He also assisted in negotiating the end of the Russo-Japanese War, which led to his Nobel Peace Prize.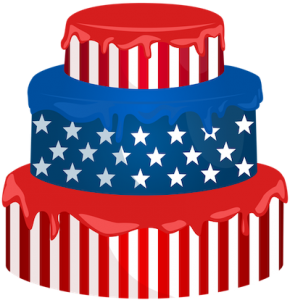 Theodore initially supported his successor, President William Howard Taft, however, Theodore began to openly criticize him when William's policies began to differ from his own. Theodore formed the Bull Moose Party and ran against William in 1912. During his campaign, Theodore was shot in the chest in an assassination attempt. After being shot, Theodore continued speaking for 90 minutes before seeking medical treatment. Theodore lost the election.
Theodore remained active for most of his life, traveling, and publishing numerous books, including the four-volume series The Winning of the West.  He was an outspoken supporter of the Allies during World War I and demanded harsher policies against Germany. He also believed, "hyphenated Americans" were unpatriotic because they were not wholly loyal to the United States. Theodore was given the authority to raise four divisions similar to the Rough Riders. However, much to Theodore's furor, President Woodrow Wilson refused to send the troops to France, forcing the divisions to disband. In retaliation, Theodore published a book against the president, helping his own party gain control of Congress.
In 1918, Theodore considered another run for President but persistent health problems from malaria prevented his running. On January 6, 1919, Theodore died at his Long Island estate in his sleep after a blood clot lodged in his heart. He was 60 years of age. After being informed of Theodore's death, vice-president Thomas Marshall said, "Death had to take Roosevelt sleeping, for if he had been awake, there would have been a fight."
Theodore identified with the Dutch Reformed Church, although he frequently attend Episcopalian church services with his wife, as Dutch Reformed Churches were nearly impossible to locate. Theodore believed that if you did not fear God, you must consider yourself above the laws of man.
Happy Birthday Mr. President!
For more information regarding how your financial support can help, please click here.