Happy Birthday President Tyler: John Tyler, 10th President of the United States
"If we find ourselves increasing beyond example in numbers, in strength, in wealth, in knowledge, in everything which promotes human and social happiness, let us ever remember our dependence for all these on the protection and merciful dispensations of Divine Providence."  His great nephew was future president Harry Truman.  He was an avid reader, with a large personal library.  His favorite author was Shakespeare.  He was the first vice-president to become president.  He is John Tyler, 10th President of the United States of America, serving from April 4, 1841, until March 4, 1845.  John was born on March 29, 1790, in Charles City County, Virginia, on his family's slave-owning estate called the Greenway.  He was one of eight children and one of seven presidents born in Virginia. 
John had an excellent education, graduating from the College of William and Mary at the age of 17 and being admitted into the bar two years later.  When John was 21, his father became governor of Virginia, which allowed John to obtain a position in the Virginia House of Delegates.  John married his first wife, Letitia Christian in 1813.  They had eight children together, one of whom died as an infant.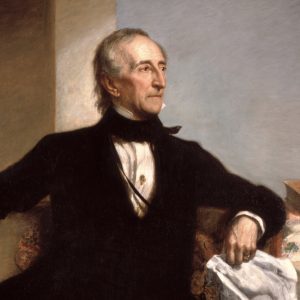 John served as a military captain in the War of 1812, after which he was elected to the House of Representatives from 1816 to 1821.  In 1825, John became governor of Virginia for two years before becoming a senator.  John joined the Whig party, founded by Henry Clay and Daniel Webster, in opposition to President Andrew Jackson.
In 1840, John was selected to run as vice president, with William Henry Harrison as the presidential nominee.  Together, with their catchy slogan – "Tippecanoe and Tyler Too!" – the duo won their bid for the White House.  Harrison was inaugurated in March of 1841.  One month later, President Harrison died, the first president to die while in office.  One legend says that John was on his knees playing marbles when he received the news of Harrison's death, although this is unconfirmed.  
With Harrison's death, uncertainty abounded regarding the office of the Presidency.  Was John Tyler, the vice-president simply to assume the powers of the president's office?  Was he actually the President of the United States?  The presidential Cabinet determined that John was simply "Vice-President acting President," however John believed differently.  John believed that with Harrison's death, he now was the President, shortly after returning to Washington DC, had himself sworn in, without any qualifiers.  John did not believe that it was necessary to take the Presidential oath, as he had already taken the Vice-Presidential oath, however, he wanted to squash any doubt regarding his accession.  He also went on to issue an inaugural address on April 9, 1841.
John's presidency was difficult.  There were those legislatures that did not immediately accept him as President.  John remained firm in his belief that he was president, returning any correspondence that was addressed to the "Vice President" or "Acting President," unopened.   Additionally, he was immediately at odds with his inherited Cabinet, as he was unwilling to allow them to continue making policy by a simple majority vote as Harrison had done.  Further, John became at odds with his own Whig party, when he demonstrated that he was not a man who could be managed.  The Whig party eventually expelled him and attempted to have him impeached for misuse of veto power.  The attempt failed to gain support.  It was the first time impeachment proceedings were ever started against a President.
The major division between President John Tyler and the Whig party occurred over a national banking act, which John opposed and the Whigs supported.  John twice vetoed such an act.  Shortly thereafter, his Cabinet began resigning, all but one, an act orchestrated by Henry Clay in an attempt to force John's resignation.  When John did not resign, the Whigs in Congress refused to allocate funds to repair the White House.
In September of 1842, John's wife, Letitia died of a stroke.  He was the first president whose wife died while he was in office.  He married his second wife, Julia Gardiner in 1844.  They went on to have seven children, all of whom lived into adulthood.  John had a total of 15 children, more than any other president. 
President John Tyler and Congress continue to oppose each other on several issues, such as the tariff rate, the government debt, and a distribution program.  Due to several vetoes by John, the first impeachment proceedings in American history took place against President John Tyler.  Congress also refused to accept a number of the Presidential nominees for his Cabinet.  He was the first president to have his nominees rejected.  He continues to hold the record for the most rejections.
Despite the domestic issues, John was successful on several foreign and military affairs.  He began a process that would eventually lead to Hawaii becoming a state.  On his final day in office, he admitted Florida into the Union.  He also advocated for Texas to become a state.  John improved relations with Britain regarding several disputed borders and brought an end to the Second Seminole War.  He also advocated for the establishment of a chain of forts from Iowa to the Pacific.
John sought to run for a second term and was using the annexation of Texas to gain favor.  Unfortunately, following a deadly incident onboard the USS Princeton, John was unable to complete his plan before the election, as several key Cabinet members were killed.  John also sought to reshape his public image by distributing a favorable biography of himself.
Unfortunately, neither the Whig party nor the Democratic party was willing to accept him and nominate him for another term.  John, therefore, formed his own party – the Democratic-Republicans, who nominated him to run for a second term.  However, John eventually dropped out of the race and supported James Polk of the Democratic party for President.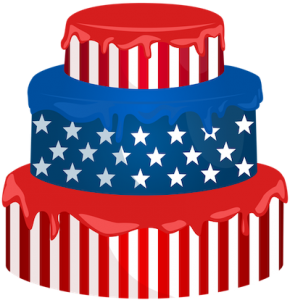 Following his time as President, John retired to a Virginia plantation that he renamed Sherwood Forest, after the legend of Robin Hood.  He spent much of the time on his plantation, rarely receiving friends or giving public speeches, although he did attempt to help with a compromise that would avoid Civil War. 
Following the breakout of the Civil War, John did not hesitate to support Virginia and join the Confederacy. He was elected to the Confederate House of Representatives, although he never lived to see the opening session.  John, who had frequently suffered from poor health, died on January 12, 1862, at the age of 71.  His cause of death is believed to have been a stroke.  John became the only president to not have his death officially recognized in Washington, as many believed him to be a traitor.  Confederate President Jefferson Davis insisted that he be given a hero's burial, with his coffin draped in the Confederate flag.  Over a century later, President Jimmy Carter restored John's US citizenship.
John is believed to have been Episcopalian.  He would occasionally make references to God in speeches, however, he was not known as a strong proponent of religion.  John believed in religious tolerance and freedom for all religions – "The conscience is left free from all restraint and each is permitted to worship his Maker after his own judgement."  John also believed that religion did not have a place in politics.
Happy Birthday Mr. President!
For more information regarding how your financial support can help, please click here.