August is Family Fun Month!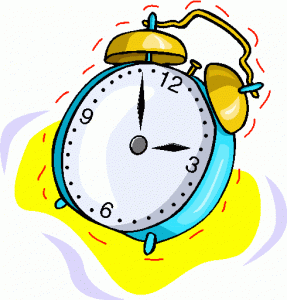 BEEP! BEEP! BEEP!  Just five more minutes… BEEP! BEEP! BEEP!  Arrgg.!! Alright, alright!  Slowly the household starts to come awake.  Mom putters out to the kitchen to start the coffee, while Dad hops in for a quick shower.  BEEP! BEEP! BEEP!  The kids take a bit longer to wake up, but dad's mouthwatering pancakes are waiting for them, with real maple syrup.  Everyone hustles around getting ready for the day, with Mom shouting out reminders about various activities relating to the person she is currently passing. 
Before you know it, everyone heads off in their own direction for the day.  The day flies by, everyone involved in their own life.  In the evening, everyone starts to slowly trickle back to the house, all arriving in time for dinner: Mom's famous spaghetti!  During dinner, they exchange brief stories about their days before again wandering off, each in pursuit of their own leisure activities.  Too soon, it is time for bed.  And then, BEEP! BEEP! BEEP!, the pattern begins again.

Can you recognize your family in the above story?  Many families have their own similar story to tell.  Is that all there is to being a family?  Having a routine?  Living in the same house?  Sharing meals?  Briefly talking about your day?  Separating for your own leisure activities?  No!  Family is not simply a group of people with whom you live!  Family is a gift from God and should be treasured!
Children, obey your parents in the Lord, for this is right. "Honor your father and mother" (this is the first commandment with a promise), "that it may go well with you and that you may live long in the land." Fathers, do not provoke your children to anger, but bring them up in the discipline and instruction of the Lord.  (Ephesians 6:1-4, ESV)
Paul provides instructions for each member of the family, instructions which are based on the commandments given in the Old Testament, during the time of Moses.  Children are to obey their parents.  In return, parents are to raise up their children in the way of the Lord, teaching them right from wrong.  They are to discipline their children when they misbehave, but it should be done out of love, not anger.  Family is work!
In our hectic lives, family is not always given the attention it deserves.  Tempers can flare after a long and trying day, causing harsh words.  Often, it is family who can receive the brunt of the temper.  After all, many reason, they are family; they will forgive, they have to forgive.  Should we not strive to treat our family better?
August is National Family Fun Month!  While family may be work, just like everything else in life, it should also be fun.  This month, the final month before school starts once more, take time out from life and focus on the family.  Focus on having fun with your family!  Plan a special outing or adventure!  Let the kids help plan – or let them plan a fun activity and discover something new about them!  Teaching does not always have to be a serious affair!  This month, pray for your family.  Pray that you may grow closer as a family and discover, or rediscover the joy in family!
For more information regarding how your financial support can help, please click here.