Happy Birthday President Buchanan: James Buchanan, 15th President of the United States
"All the friends that I loved and wanted to reward dead, and all the enemies that I hated and I had marked out for punishment are turned to my friends."  He is the only president to have never been married.  His favorite vegetable was cabbage.  He was the only president ever elected from Pennsylvania.  He is James W. Buchanan Jr., 15th President of the United States, serving from March 4, 1857, until March 4, 1861.  James was born in a log cabin on April 23, 1791, in Cove Gap, Pennsylvania.  He was one of six presidents born in a log cabin.  It may seem James was destined to become President, as he is a direct descendent of King James I of Scotland and Queen Cleopatra of Egypt.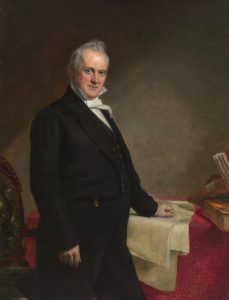 James was educated at what is now known as Dickinson College.  He graduated with honors after almost being expelled for poor behavior.  In 1812, he was admitted to the bar.  James was also a Freemason.  In 1819, James almost married but his fiancée broke off the engagement and died a week later.  James refused to publicly discuss the relationship.  Since Buchanan never married, his niece, Harriet Lane Johnson served as the official White House hostess at social functions. 
James initially opposed the War of 1812, believing it unnecessary, however he later joined a volunteer unit to help defend Baltimore, Maryland from British invasion.  Throughout his service in the military, he never served as an officer, the only president with military experience not to do so.
James' political career began in 1814, at the age of 23, when he was elected to the Pennsylvania House of Representatives as a member of the Federalist Party.  In 1821, he went on to served for five terms in the US House of Representatives.  In 1832, James was appointed by President Andrew Jackson as envoy to Russia, where James proved his abilities as a diplomat.  Two years later, James returned to America and won a seat in the US Senate.  He remained in that position for 10 years, before being appointed as secretary of state by President James Polk.  In 1852, James made an unsuccessful bid for the presidentially nomination in the Democratic Party.  He lost to Franklin Pierce, who later appointed him minister to England.
James was elected president in 1856, defeating Republican nominee John C. Fremont.  In his inaugural address, James promised that he would not run for re-election and, therefore, be able to focus solely on the issues at hand.  Those issues would turn out to be one primary issue – slavery.  Several states were threatening to succeed over the issue.  James believed that slavery was a matter for the states and territories to decide, not the federal government, and thought that the issue could be easily and quickly resolved.  James' beliefs showed  a fundamental misunderstanding of the issue.
James wanted to be great president, comparable to George Washington, but he failed to grasp the reality of the political situation between the North and the South.  Instead, James went on to be considered one of the worst US presidents.  James thought that the slavery issue could be resolved through the law and through compromise.  He failed to realize that neither side was willing to compromise with the other.  During his time in office, James managed to alienate both sides of the issue by declaring that states did not have the right to secede, yet the government did not have the authority to stop them from doing so.  When President Buchanan left office, the nation was on the brink of civil war.  
Following the election of Abraham Lincoln, South Carolina seceded, the first state to do so, in December 20, 1860, with six more following by the time Buchanan left office in March of 1861. 
While slavery was the primary issue addressed by James, he also faced other problems.  Due to over consumption of goods from Europe and banks overextending credit, debt began to rise and people began to panic.  James ended his presidency with a $17 million federal deficit, as he refused to curtail public works projects to save money.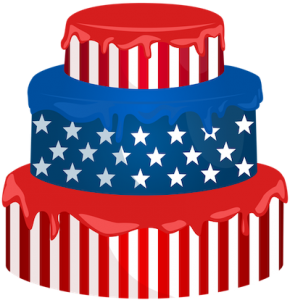 In March of 1857, James received conflicting reports about Mormons causing problems in Utah for federal employees.  The problems in Utah with the Mormons, was an inherited one for James, as it had begun with the Pierce administration refusing to grant Utah statehood.  James acted swiftly upon the unconfirmed reports, replacing Mormon Governor Brigham Young with non-Mormon Alfred Cummings and sending the Army to assist Alfred.  Unfortunately, Brigham never received notice of his replacement, as the Utah mail contract had been annulled by the former president.  Brigham responded with a two-week expedition which destroyed wagons, oxen, and other Army property.  The war lasted approximately one year and ended with amnesty being granted to all, provided they respected the authority of the government.
James all but disappeared from public life after he left office.   James was and still is judged harshly for his actions as president, especially for failing to stop the Civil War, which broke out less than two months after he left office.  He is frequently rated as among the least, and as the least, effective Presidents of the United States.   In October of 1862, James attempted to defend himself and his actions as President in the National Intelligencer newspaper.  James Buchanan died from respiratory failure on June 1, 1868, in Lancaster, Pennsylvania, shortly after becoming ill.  He was 77 years of age.  
Not much is known about James' religious views.  In a conversation with a Rev. Dr. William M. Paxton, pastor of the First Presbyterian Church of New York City, he stated that he had been reading the Bible and praying daily for the past 12 years and, upon further conversation, believed he was a Christian.   He eventually joined the Presbyterian church after leaving office and made a generous donation to the church following his death.
Happy Birthday Mr. President!
For more information regarding how your financial support can help, please click here.