Happy Birthday President Cleveland: Grover Cleveland, 22nd and 24th President of the United States
"Though the people support the government; the government should not support the people."  He was the first and only president to get married at the White House.  He was also the first president to have a child born in the White House.  The Baby Ruth candy bars are named for her.  He did not like the press, refused to give them a working area within the White House (making them stand outside waiting for people to leave), and refused to attend the Gridiron Club dinner, an event held by Washington journalists.  He is Stephen Grover Cleveland, the 22nd and 24th President of the United States of America, serving from March 4, 1885, until March 4, 1889, and again from March 4, 1893, until March 4, 1897.  Grover, as he was always known, was born on March 18, 1837, in Caldwell, New Jersey, as the fifth of nine children.  His father was a Presbyterian minister, who died when he was 16, forcing Grover to forgo his remaining education to help support his family.  Eventually, Grover would work as a clerk and part-time law student in Buffalo.  The knowledge gained on the job allowed him to pass the bar exam in 1858, without any formal study.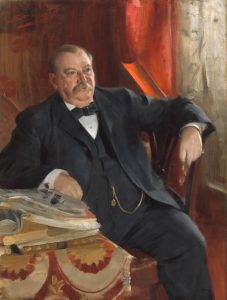 Grover began his own law practice and was appointed assistant district attorney of Erie County in January of 1863.  He evaded the Conscription Act of 1863, which required able-bodied men to serve in the military during the Civil War if called upon, by hiring a substitute, which was permissible.  This made Grover one of two presidents who never completed formal education or served in the military.  Grover earned a reputation as a hard worker and single-mindedness as a lawyer. 
Grover became Sheriff of Erie County on January 1, 1871.  He did not believe in passing on less desirable tasks to others and served as hangman for two executions during his tenure.  Grover opted not to run for re-election, instead returning to his law practice.  It was during this time that the unmarried Grover began a relationship with a widow, Maria Crofts Halpin.  The two had a child together, for which Grover eventually accepted responsibility, supporting both mother and child.  This would later become a campaign issue during Grover's first presidential run.
Grover became mayor of Buffalo, New York in 1882, and then governor of New York shortly thereafter.  During his time as governor, he worked to cut needless spending and political corruption.
In 1884, with a weak Republican nominee, Grover Cleveland was selected to run as the Democratic nominee.  The leading issue during the campaign was corruption in politics, as Grover's opponent had been involved in several questionable deals.  In an attempt to discredit Grover, his opponent brought up his illegitimate child.  Grover insisted that his campaigners "tell the truth" about the affair.  The election was close, with Grover winning.  President Grover Cleveland delivered his inaugural address without notes, as he had an excellent memory.
One of his first acts as the 22nd President was to reduce the number of federal employees.  Grover refused to appoint individuals, or fire them, based solely on their political party.  Ignoring the traditional spoils system, Grover instead evaluated their job performance, however, as his term went on, he replaced more and more Republicans with members of his own party.  Grover became well known for his use of vetoes, vetoing hundreds of private pensions bills by Civil War veterans.  Grover believed in the power of limited government, which was the reason behind many of his vetoes.
During his first term, Grover also became the first president to get married in the White House.  He married his ward, the daughter of his former law partner, 21-year-old Frances Folsom.  Frances was the youngest First Lady ever and despite the wide age difference between her and her husband, she was warmly welcomed by the public.  Grover and Frances went on to have five children together.  Also during his first term, President Grover Cleveland oversaw the dedication of the Statue of Liberty and saw the end of the Apache wars with the surrender of Geronimo.
Grover was easily nominated to run for re-election in 1888, however, his campaign was poorly managed.  He even lost his home state of New York in the election!  In a narrow race, Grover's opponent, Benjamin Harrison was elected president, while Grover returned to New York.  Grover and his wife spent considerable time over the next four years at their vacation home, where Grover took up and became obsessed with fishing.
In 1892, Grover was once again selected to run for president, due to his favorable reputation, and he was once again running against Benjamin Harrison.  Due to policies over the last four years, the price of imported goods had increased and tariff reform, an issue Grover supported, was gaining large general support.  Grover easily won the election, making him the only two-term, non-consecutive president.
As 24th President of the United States, Grover had to deal with an economic depression as soon as he regained office.  A falling stock market and a gold shortage worsened the situation.  Grover also had to deal with the Pullman strike, where over 125,000 railroad workers went on strike due to long working hours and low pay.
Also during his second term, the Hawaiian monarchy was overthrown, an act which was not supported by President Grover Cleveland, but set in motion during Harrison's time in office.  Grover also admitted Utah as a state during his second term.  He continued his frequent use of the veto power, using it more than any other present except Franklin Roosevelt.  Grover also opposed women's suffrage, believing sensible women did not want to vote.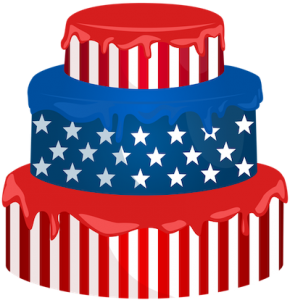 In 1893, amid an economic panic, it was discovered that Grover needed to have surgery to remove a noncancerous tumor.  The surgery was done in secret, on a yacht, under the guise of Grover being on vacation.  It was many years before the truth of the surgery was made public.  Grover was succeeded in 1897 by William McKinley.
Grover and his wife returned to their home in New Jersey, where they spent the remainder of their lives.  The former President stayed involved in politics, consulting with Theodore Roosevelt and writing for various publications.  In 1907, Grover's health began to fail.  He died of a heart attack on June 24, 1908, at the age of 71.
As the son of a Presbyterian minister, Grover identified as a Presbyterian, although he was tolerant to nearly all religions.  He had openly spoken of concern over admitting Utah as a state due to the high population of Mormons, although his chief objection seemed to be directed at a polygamous lifestyle as opposed to the religion itself.  Following the death of his first daughter, Ruth, Grover took comfort, that his daughter was in Heaven with "her Savior."
Happy Birthday Mr. President!
For more information regarding how your financial support can help, please click here.