Happy Birthday President Ford: Gerald R. Ford, 38th President of the United States
"A government big enough to give you everything you want is a government big enough to take away everything you have." He was never elected president by the people.  He was never elected vice-president by the people either.  He could have been a professional football player, as he was offered contracts by the Detroit Lions and Green Bay Packers ($200 a game for a 14 game season…how times have changed!).  Or perhaps a fashion model!  He modeled for Cosmopolitan and Look magazines.  He is Gerald Rudolph Ford, Jr., 38th President of the United States, serving from August 9, 1974, to January 20, 1977.  He was born Leslie Lynch King, Jr., in Omaha, Nebraska on July 14, 1913.  His parent divorced when he was young and his mother remarried and moved the family to Michigan.  Leslie was renamed Gerald R. Ford, after his step-father.  Gerald graduated from the University of Michigan with a degree in economics, one of three presidents who achieved such a degree.  He then attended and graduated from Yale Law School, working as a lawyer briefly before joining the United States Navy after the attack on Pearl Harbor.  During his time in the military, he earned several commendations and took part in the battle for Wake Island, Okinawa, and the Philippines.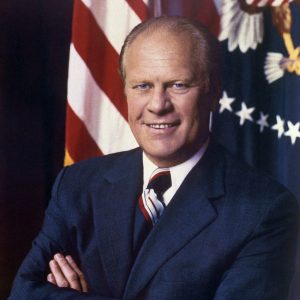 Shortly after returning from war, and enlisting in the United States Naval Reserves, Gerald ran for and won a seat in the House of Representatives, but not before he married Elizabeth "Betty" Bloomer Warren in October of 1948.  Gerald spent the next 24 years serving as a representative.  His goal was to become Speaker of the House.  During his time as a Representative, he was a member of the Warren Commission, which examine the death of John F. Kennedy.  Gerald spoke out against President Johnson's handling of the Vietnam War and many of his Great Society Programs, causing criticism from the President.  During his time in the House, Gerald bought a newly invented Polaroid camera and would take pictures and give them away as souvenirs.  Gerald never became Speaker of the House, instead earning the position of House Minority Leader, a position he maintained for eight years.  Gerald became well-liked by his colleges due to his fair leadership and inoffensive personality. 
In October of 1973, then vice president Spiro T. Agnew resigned his position following a tax evasion scandal.  Gerald was selected by President Richard Nixon to become the new vice president.  The decision was overwhelmingly approved by the Senate and House of Representatives.  A few months later in 1974, the Watergate Scandal broke and President Nixon chose to resign, making Gerald Rudolph Ford the 38th President of the United States.
Gerald was one of nine vice presidents to become president, although he is the only vice president to become president through circumstances other than the president's death.  Shortly after becoming President, Gerald fully pardoned Nixon, an unpopular decision, which likely led to his defeat in the next presidential election.  However, historians agree that this was the right decision, as it allowed the nation to heal and move on from the Watergate Scandal.  Gerald served the fifth shortest term of any president, 896 days, although it is the shortest of any president who did not die in office.  Gerald faced two assassination attempts while in office.  He began wearing a bulletproof vest after the second attempt.
President Ford is not known for sweeping changes and reform, rather historians view him as the calm force America needed at the time.  His controversial decision to pardon Nixon is looked back upon as the right decision to help heal the nation.  Gerald also began a conditional amnesty program for draft dodgers in the Vietnam War, however full pardons were not granted until President Carter.  He also supported the Equal Rights Amendments and special education classes.  During his time in office, Gerald faced an economical recession and growing inflation.  
Internationally, relations between the United States and Russia and China continued to improve and the Strategic Arms Limitation Treaty remained in effect.  Gerald also chose to keep America out of Vietnam when North Vietnam once again invaded South Vietnam, although thousands of people were evacuated from South Vietnam, with many coming to the United States.  North Vietnam's victory over South Vietnam shifted Asian relations with the United Staes, along with two incidents involving US personnel: the Mayaguez Incident and the axe murder incident at Panmunjom in the demilitarized zone in Korea.
Gerald reluctantly agreed to run for office again in 1976.  First Gerald battled against his own party candidate Ronald Reagan before going against Jimmy Carter.  The election utilized televised Presidential debates for the first time since the 1960 election.  Carter believed that these debates is what pushed him ahead of Gerald and ultimately helped win him the election.  The election was close, with Carter ultimately winning.  Despite the defeat, Gerald and Carter become close friends, with Gerald received regular updates on international and domestic issues.  Gerald also had a standing lunch invitation to the White House if he was in Washington.  Even after Carter left office, the two families remained close.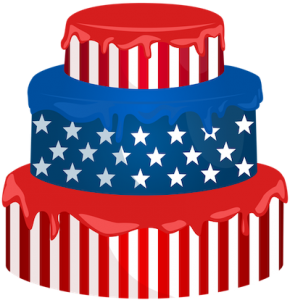 After leaving office, Gerald and his wife retired to Colorado, where he continued to stay active.  Gerald wrote several books and became the first former president to become a millionaire.  Despite his relationship with Carter, Gerald publicly criticized the Carter Administration in favor of the Reagan-Bush ticket in the 1980 election.  In his later years, Gerald began to experience several health problems.  He died on December 26, 2006, at the age of 93, in his home in Rancho Mirage, California.
Gerald Ford was a known Episcopalian.  He described his faith and belief in the Lord as a "deep personal faith."  Others described his faith as "quiet."  Prior to becoming President, Gerald met once a week with close friends for a prayer meeting, a tradition he insisted would continue after becoming President, despite criticism that it was a political strategy session.  Several colleagues noted that any reference made to God in his speeches were genuine and not forced.  In the notes for his autobiography, Gerald writes, "My religious beliefs give me guidance and strength on a day to day basis…Nightly I seek the Lord's guidance by silent repeated Proverbs 3:5-6.  Daily I seek to live by the example of Jesus Christ.  I have always gained strength from the conviction that way I've tried to do is the will of the Lord."
Happy Birthday, Mr. President!
For more information regarding how your financial support can help, please click here.