Melanoma/Skin Cancer Detection and Prevention Month
The winter was cold, harsh, and bitter and led into a rainy, dreary, overcast, wet spring. It seemed as if the sun had not been seen since the fall, but finally, finally, the sun was starting to peak through the clouds. The days were getting warmer and drier. It was almost here. Summer! Days spent by the pool reading, frolicking on the beach, outside the house working on the lawn and garden. Regardless of what was being done outside, one thing was for certain, by the end of the summer, skin will have darkened into a delightful tan.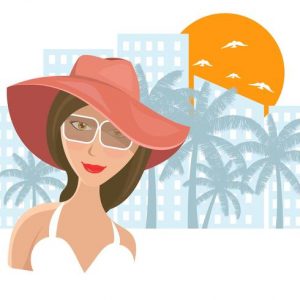 But Kyla was not rejoicing. In fact, she feared the summer. She had just became one of the 3.5 million individuals diagnosed with skin cancer each year, the most common form of cancer in the United States. When she received the news, she was in shock. She lived outside in the summer – the beach, pool parties, backyard BBQs, hiking, camping trips, and even just laying in the sun reading a book. What was she going to do???
As summer crept ever closer, Kyla knew that she needed to prepare herself. She did not want to cut herself off from her friends and summer activities, so she began reading information provided by her doctor. Kyla feared that she would not be able to go outside at all during the summer. She learned that she could, she should just avoid the sun – seek out shade when the sun was at its peak, typically between 10 am and 4 pm. She even had to be careful on cloudy days. The harmful rays of the sun are not stopped by clouds! She would also have to be aware of changes on her skin. Any new moles, or changes in existing moles, needed to be checked by a doctor immediately!
Kyla kept reading, then grabbed her keys and headed out to her car. She needed to go the store. Several bottles of sunscreen went into her cart. She planned to have a bottle in every bag she used, plus one in the car, and she wanted some extra in case those bottles ran out. It was important that she always apply sunscreen before going outside and reapply every two hours, more often if she was in the water or sweating. She wanted to always have sunscreen available. She also bought a wide brimmed straw hat to protect her face, ears, and neck, along with a few shirts and pants. Kyla knew that she would not always be able to wear long clothing, but she wanted to have lightweight clothing available for when she could.
Kyla had a blast over the summer! Her determination to keep herself safe earned a few weird looks and remarks, but her friends could have cared less what she was wearing…they were just glad she was with them! Kyla even had the opportunity to share her newfound knowledge with others and help them stay safe and protect themselves. And her friends may have occasionally joked about her new habits but it never stopped them from asking to borrow her sunscreen (or the spare hat in her car). Kyla was always more than happy to oblige, usually without a lecture on staying healthy.
May is Melanoma/Skin Cancer Detection and Prevention Month. With the days getting warmer and summer just around the corner, it is important that you and your family are prepared and know the early warning signs of skin cancer. Most skin cancers are treatable and curable if caught early enough. Take time this month to learn about how to prevent skin cancer. Share what you learn with friends and family! Please pray for healing for those who have been diagnosed with skin cancer.
For more information regarding how your financial support can help, please click here.