National Recommitment Month
Billy and Zach were best friends since grade school. They played the same sports, attended the same church and youth group, went on the same trips, and even accepted Christ together. They were roommates during their first two years of college, but they started growing apart during their sophomore year. Billy got a fake ID and began partying and bringing home girls. Zach continued attending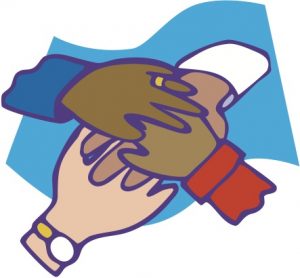 a campus Bible study and local church. Billy worked a high paced job that catered to his partying ways. Zach was married but spent much of his time helping at his church and too little time with his family. They ran into each other at their college reunion and, while they caught up with each other, they independently realized they each needed a change in their life. Billy wanted to return his life to a manner that is pleasing to his Lord and Savior. Zach realized that, in his overzealous attempt to serve the Lord, he was missing some of the Lord's most important work for him; being loving and attentive husband and father.
Do you need a change in your life? Everyone does! No one is perfect! May is National Recommitment month!
In January, everyone sets their New Year Resolutions. Usually, those oh-so-important resolutions fall by the wayside in a few weeks. Well, who says those resolutions evaporate if you make a mistake? Everyone makes mistakes! Who cares if it May? Start over again, this time without the pressure of feeling as if you have failed if you make one mistake.
For we all stumble in many ways. And if anyone does not stumble in what he says, he is a perfect man, able also to bridle his whole body. (James 3:2, ESV)
And let us not grow weary of doing good, for in due season we will reap, if we do not give up. (Galatians 6:9, ESV)
This month, consider what you need to recommit to. Do not make a list of what you can and cannot do. Examine your life. Seek the Lord's guidance on what you need to change. And then make an action plan!Builders would not build a house with a blueprint, so what is the blueprint for your changes?How are you going to make those changes?Perhaps you are like Billy, and need to recommit to your relationship with the Lord. Set a timer on your phone or computer. Label it "devotional. "And when that reminder comes up, stop what you are doing and spend time with Him. Or maybe you are like Zach, and need to spend more time with your family. Set aside one night a week. All phones, tablets, computers, televisions, and electronics get turned off and you do something as a family. Do a family devotional, play a bored game, go for a walk, get ice cream, go bowling, do something together!Create an action plan and do not let a missed day, or a missed week, cause you to stop. If you stumble, get back up!
We will fail. We will fall. We will make mistakes. God knows this and is there for us when we do. He is willing and able to help us back up and start again. It is how we react to that failure that is important. Do we learn from it and change our ways? Or do we let the failure rule us?
For more information regarding how your financial support can help, please click here.