July is UV Protection Month
Ahhhh, summer! Time to soak up those rays from the sun and enjoy the warmth of the outdoors. Perhaps go sightseeing or play some volleyball with friends! Go for a picnic, grab some ice cream, or light up the grill! Of course, if you're not careful, these activities can become deadly!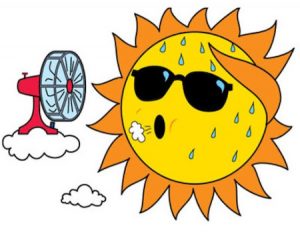 While enjoying and soaking up the sun, it is important to remember that the ultraviolet radiation (UV) rays of the sun can be harmful. UV rays affect the skin in numerous ways, from darkening the skin (tanning), to causing wrinkles, to causing cancer. UV rays have been directly linked to various forms of skin cancer! Skin cancer is the most common form of cancer in the United States. The skin is largest organ of the body and the more exposure to the sun, the greater the risk.
However, some easy steps can help prevent the damage UV rays cause. Since skin must be exposed to UV rays, cover up! No, you don't have to be covered from head to toe – that can lead to overheating and dehydrations, which creates a whole other set of problems! Wear a hat and sunglasses to protect the delicate skin around your eyes, face, ears and neck. Wear a shirt when outside working.
If you are going to be outside for an extended period of time – or even just a little – put on some sunscreen! And don't forget to reapply every couple hours! Reapply even more frequently when around reflective surfaces and at higher altitudes. Avoid being in direct sunlight during the time of day when the sun is at the strongest, and the UV rays are at their strongest.
Take care this summer and stay protected!
For more information regarding how your financial support can help, please click here.