St. Francis of Assisi and the First Nativity
Francis of Assisi* was a simple man who lived a simple life, dedicated to the Lord.  He grew up in a life of wealth and privilege, enjoying and appreciating all the beauty and ease that came with that life.  But after 25 years living the affluent life, God's call finally reached Francis' ears.  A disagreement with his father spurned Francis to finally and fully reject the life into which he was born.  Instead, Francis devoted himself entirely to the Lord and His work.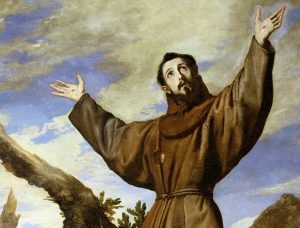 Francis wanted everyone to return to the Lord.  Inspired by the poverty, humility, and simplicity into which Jesus Christ was born, and the life He lived, Francis attempted to live his life in a similar manner.  He owned nothing but the clothes on his back – and even those he was willing to give away!
After years of travels and devotion to the Lord, Francis arrived in the small village of Greccio, Italy.  It was here where he would spend the Christmas of 1223.  Unbeknownst to him, it was just two years before his death.  And it was in this village that Francis made one of his most enduring contributions to Christian history.
The years were beginning to catch up with him.  As Francis prepared for the Christmas Eve midnight mass, he remembered the many journeys and travels he had taken throughout his life.  He recalled one specific travel – his pilgrimage to the Holy Land to view the birthplace of Jesus Christ.  Like the life he was trying to live, Jesus was born into poverty and lived a life of humility and simplicity.  Seeing His birthplace was a moving experience for Francis, and one he never forgot.
But a pilgrimage to the Holy Land was not as easy as it once was, being now fraught with danger.  As Francis could personally attest, the battle for control of the Holy Land between the Muslims and Christians was ongoing and made traveling dangerous.  Francis remembered his own journey attempting, and failing, to convert Sultan Malik al-Kamil!  It was through God's grace that he made it out alive.
With the ongoing danger few could make such a journey to see Christ's birthplace.  How many in this small village had made the pilgrimage?  Would the fighting soon end and allow others to once again make the journey?  With these thoughts in mind, Francis was struck with an inspiration; if the people could not travel to the birthplace of Christ, why not bring it to them?!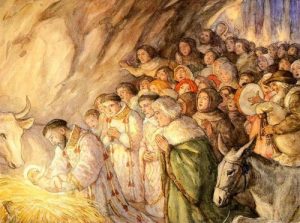 Before continuing with his inspired idea, Francis sought the permission of Pope Honorious III.   Francis did not want to be accused of "lightness or novelty."  Upon receiving the blessing of the pope, Francis went and spoke to a local friend and fellow former warrior, Master John of Greccio.  Together, they arranged Francis' unique and lasting idea.
On Christmas Eve for the Midnight Mass, the townspeople were surprised to discover that it was not at the church.  Instead, it was being held at a nearby grotto.  Above them, the stars shown bright, illuminating the scene awaiting them. The floor of the grotto had been covered with a bed of straw, upon which lay a living ox and donkey.  In the center of the grotto, laid a feed trough – a manger of hay.  Near the manger knelt a man and a woman – Mary and Joseph, surrounded by three wise men bearing gifts.  Upon the manger lay a doll, a symbol of Jesus Christ, the "Babe of Bethlehem."  
A silence fell over the crowd as they beheld the scene in front of them, a scene most had viewed only in their imaginations.  The reason for their holiday celebration had been brought to life in a way never before imagined.  Those who witnessed this first Nativity, would later say it looked almost as if the babe had come alive.  This night helped them better see and understand the events that occurred on the night of Christ's birth.
Factum est autem in diebus illis, exiit edictum a Caesare Augusto ut describeretur universus orbis.
2 Haec descriptio prima facta est a praeside Syriae Cyrino:
3 et ibant omnes ut profiterentur singuli in suam civitatem.
4 Ascendit autem et Joseph a Galilaea de civitate Nazareth in Judaeam, in civitatem David, quae vocatur Bethlehem: eo quod esset de domo et familia David,
5 ut profiteretur cum Maria desponsata sibi uxore praegnante.
6 Factum est autem, cum essent ibi, impleti sunt dies ut pareret.
7 Et peperit filium suum primogenitum, et pannis eum involvit, et reclinavit eum in praesepio: quia non erat eis locus in diversorio.
8 Et pastores erant in regione eadem vigilantes, et custodientes vigilias noctis super gregem suum.
9 Et ecce angelus Domini stetit juxta illos, et claritas Dei circumfulsit illos, et timuerunt timore magno.
10 Et dixit illis angelus: Nolite timere: ecce enim evangelizo vobis gaudium magnum, quod erit omni populo:
11 quia natus est vobis hodie Salvator, qui est Christus Dominus, in civitate David.
12 Et hoc vobis signum: invenietis infantem pannis involutum, et positum in praesepio.
13 Et subito facta est cum angelo multitudo militiae caelestis laudantium Deum, et dicentium:
14 Gloria in altissimis Deo, et in terra pax hominibus bonae voluntatis.
15 Et factum est, ut discesserunt ab eis angeli in caelum: pastores loquebantur ad invicem: Transeamus usque Bethlehem, et videamus hoc verbum, quod factum est, quod Dominus ostendit nobis.
16 Et venerunt festinantes: et invenerunt Mariam, et Joseph, et infantem positum in praesepio.
17 Videntes autem cognoverunt de verbo, quod dictum erat illis de puero hoc.
18 Et omnes qui audierunt, mirati sunt: et de his quae dicta erant a pastoribus ad ipsos.
19 Maria autem conservabat omnia verba haec, conferens in corde suo.
20 Et reversi sunt pastores glorificantes et laudantes Deum in omnibus quae audierant et viderant, sicut dictum est ad illos.
21 Et postquam consummati sunt dies octo, ut circumcideretur puer, vocatum est nomen ejus Jesus, quod vocatum est ab angelo priusquam in utero conciperetur.
(Lucas 2:1-21, Biblia Sacra Vulgata)**
As few could read or understand Latin, this image before them, brought this Christmas story to life.  Francis stood behind the manger, sharing his message, with tears streaming down his face.  He was so moved by the events of the night, that he became unable to utter the name of Jesus Christ, instead referring to Him as the "Babe of Bethlehem."  His were not the only tears that night.  All who were present were deeply moved by what they saw and heard that night.  Francis' idea of a living nativity spread rapidly throughout Europe and became the lasting tradition that we know and love today.
---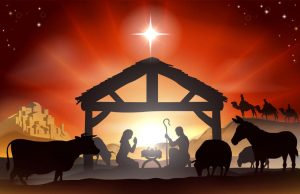 *The above is based on the true story of Francis of Assisi, who was venerated as a Saint by the Roman Catholic Church within two years of his death.  His life was recorded by Saint Bonaventure in The Life of Saint Francis of Assisi, available at https://www.ecatholic2000.com/bonaventure/assisi/francis.shtml#__RefHeading___Toc351061232
**In those days Caesar Augustus issued a decree that a census should be taken of the entire Roman world. 2 (This was the first census that took place while[a] Quirinius was governor of Syria.) 3 And everyone went to their own town to register.
4 So Joseph also went up from the town of Nazareth in Galilee to Judea, to Bethlehem the town of David, because he belonged to the house and line of David. 5 He went there to register with Mary, who was pledged to be married to him and was expecting a child. 6 While they were there, the time came for the baby to be born, 7 and she gave birth to her firstborn, a son. She wrapped him in cloths and placed him in a manger, because there was no guest room available for them.
8 And there were shepherds living out in the fields nearby, keeping watch over their flocks at night. 9 An angel of the Lord appeared to them, and the glory of the Lord shone around them, and they were terrified. 10 But the angel said to them, "Do not be afraid. I bring you good news that will cause great joy for all the people. 11 Today in the town of David a Savior has been born to you; he is the Messiah, the Lord. 12 This will be a sign to you: You will find a baby wrapped in cloths and lying in a manger."
13 Suddenly a great company of the heavenly host appeared with the angel, praising God and saying,
14 "Glory to God in the highest heaven,
and on earth peace to those on whom his favor rests."
15 When the angels had left them and gone into heaven, the shepherds said to one another, "Let's go to Bethlehem and see this thing that has happened, which the Lord has told us about."
16 So they hurried off and found Mary and Joseph, and the baby, who was lying in the manger. 17 When they had seen him, they spread the word concerning what had been told them about this child, 18 and all who heard it were amazed at what the shepherds said to them. 19 But Mary treasured up all these things and pondered them in her heart. 20 The shepherds returned, glorifying and praising God for all the things they had heard and seen, which were just as they had been told.
21 On the eighth day, when it was time to circumcise the child, he was named Jesus, the name the angel had given him before he was conceived.  
(Luke 2:1-21, ESV)
For more information regarding how your financial support can help, please click here.