Black History Month: Notable Achievements by Tuskegee Airmen
Notable Achievements by Tuskegee Airmen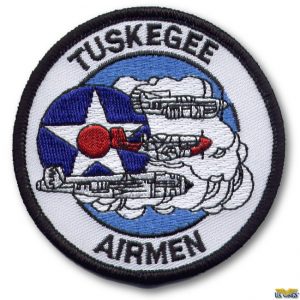 Daniel "Chappie" James Jr., who was a lieutenant when he flew as a member of the 99th during the war, became the first African-American to become a four-star general.
Marion Rodgers, also a member of the 99th during the war, went on to work for NORAD and was a program developer for the Apollo 13 project.
Lucius Theus, an aviator, stayed in the military, rising to the rank of major general. During his time, he worked to implement a direct deposit system for service members.
C. Alfred "Chief" Anderson was the first African-American to receive a commercial pilots certificate in 1932, and the first to make a transcontinental flight. He also flew Eleanor Roosevelt (wife of President Franklin D. Roosevelt) when she visited the Tuskegee air base.
Captain William A. Campbell was the only Tuskegee Airman to earn two Distinguished Flying Crosses. He became the Group Commander of the 322nd after the war and remained in the military throughout the Vietnam War and Korean Conflict. He retired as a full Colonel.
Joseph D. Elsberry shot down three enemy aircraft during one escort mission, earning a Distinguished Flying Cross. He was the first Tuskegee Airman to shoot down three enemy aircraft in one day.
Captain Alva Temple, Lieutenant Harry Stewart, Lieutenant James Harvey III, and Lieutenant Herbert Alexander where the four pilots who participated in the US Continental Gunner Meet in Las Vegas, Nevada. They missed none of their targets and took first place in the conventional fighter class.
Charles E. McGee remained in the military throughout Korea and Vietnam, flying a total of 408 fighter combat missions, the most of any Tuskegee Airman. He would retired from the Air Force as a Colonel, having received numerous medals for his service.
Percy Sutton left the military after World War II, and went on to graduated from law school. He became a nationally recognized civil rights attorney and represented Malcolm X. He later co-founded Inner City Broadcasting Corporation, which grew to include 19 stations.
Second Lieutenant Wendell Oliver Pruitt is credited with disabling a German destroyer and shooting down three names planes. He was a formidable fighter pilot, especially when paired with Lieutenant Colonel Lee A. Archer, Jr. Together, the two were nicknamed the "Gruesome Twosome."
Lee A. Archer, Jr., achieved the rank of Lieutenant Colonel before retiring from the military. He was mentored by Wendell Pruitt in fighter plane tactics, and the two became known as the "Gruesome Twosome" for their effective attacks on enemy planes. Lee flew a total of 169 combat mission across 11 nations.
George Hickman was never allowed to fly during the war, despite being a cadet captain. Georgia had witnessed a fellow black cadet being mistreated and voiced his opposition to the white superiors. For this action he was prevented from flying. George went on to work as a crewman and flight mechanic during the war.
Eddie Marcy was a member of the support staff for the Tuskegee Airman in Italy. He was responsible for keeping certain planes fueled and ready to go. He worked with the crew preparing the planes for the Berlin mission to destroy a tank factory.
Sam Martin Bruce was one of the first volunteers to enter Tuskegee Flight School, graduating on September 6, 1942. He was assigned to the 99th Fighter Squadron. In 1944, he was one of the first African-Americans pilots to die in World War II. His plane was shot down in Anzio, Italy.
Howard Adolphus Wooten graduated from Tuskegee Flight School and was assigned to the 477th Bombardment Group. The newly formed group was to be trained on flying bombers, however they never saw action, as the war ended before they could be sent overseas. He left the military shortly after the war.
Benjamin O. Davis, Jr., was the first African-American general in the US Air Force and graduated from West Point Military Academy. He went on to command the 99th Pursuit Squadron, and then the 332nd Fighter Group. He remained in the military, working at the Pentagon and in several overseas posts, including commanding a flying group in the Korean Conflict. He was buried in Arlington National Cemetery after his death.
George S. "Spanky" Roberts served as deputy commander of the 332nd, and went on to become the first African-American to command a racially integrated unit in the Air Force. He achieved the rank of Colonel before retiring.
Lieutenant Roger "Bill" Terry was a member of 477th Bomber Group that never saw action overseas, but was subject to racism at the military base in Selfridge Field, Michigan, Godman Field, Kentucky, and Freeman Field, Indiana. At all locations, African-American officers were denied entry into the Officers Club, a policy which was against Army Regulations. Eventually, African-American officers attempted to enter the Officers Club at Freeman Field and over 100 officers were arrested. Roger was the only officer convicted. Fifty years later, his conviction was reversed and his military record cleared.
First Lieutenant Charles B. Hall was a member of the 99th Fighter Squadron and was the first African-American military pilot to shoot down and enemy plane in combat.
Roscoe Brown was a pilot with the 332nd, was one of only three Tuskegee Airmen to shoot down a German jet. After the war, he went on to earn a doctorate in education.
Robert B. Tresville was one of two Tuskegee Airmen to graduate from the US Military Academy at West Point. Robert was killed in action while commanding the 100th Fighter Squadron.
To learn more about the accomplishments of the Tuskegee Airmen, click here.
For more information regarding how your financial support can help, please click here.