Friendship 9 Conviction Overturned
Sitting for Equality – The Friendship 9
On January 31, 1961, several young men, mostly from Friendship Junior College in Rock Hill, South Carolina, chose to eat lunch at the counter of a local McCrory's Five & Dime. They walked into the restaurant, sat down, and ordered hamburgers, soft drinks, and coffee. The men were refused service and ordered to leave the establishment. When the men refused, the police were called. The young men were beaten, to the cheers of the crowd that had gathered. The men were hauled off to jail. They were given a choice: a $100 fine or 30 days of hard labor at the York County Prison Farm. One man paid the fine. The remaining nine chose to serve their time, sparking a "jail, no bail" movement.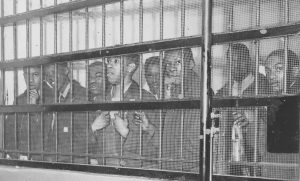 What caused such an ordinary activity as going out for lunch to spark such brutal actions? Simply the color of the men's skin. They were blacks, sitting at a "White's Only" lunch counter. They were not the first people of color to sit at the "White's Only" lunch counter, nor would they be the last. Their actions helped the sit-in movement continue to gain steam. In addition to encouraging the sit-in movement, the group also started the "jail, no bail" movement. By refusing to pay bail, the men showed complete dedication to the civil rights movement and encouraged others to do the same. When people of color were arrested and then paid their fine, they were paying for the city to continue to be able to arrest people like themselves. By choosing to stay in jail (where they were not exactly model inmates, as they refused to work at least twice), they were forcing the white authorities to pay for their housing, food, and supervision for their 30-day imprisonment. This idea spread, filling jail cells.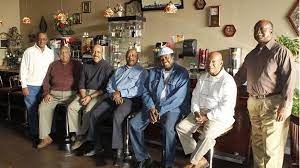 On Wednesday, January 28, 2015, 16th Circuit Solicitor Kevin Brackett and Circuit Court Judge John C. Hayes III, the nephew of the judge that sent the men to the prison camp, overturned the conviction of the men who became known as the Friendship 9: John Gains, Clarence Graham, Willie Thomas "Dub" Massey (now a substitute teacher in the Rock Hill area), Willie McCleod, James Wells, David Williamson Jr., Mack Workman, Robert McCullough (deceased August 7, 2006), and Thomas Gaither (the only one who was not a student at Friendship College).
As we approach Black History Month (February), we must remember to look back at incidents such as these. As uncomfortable as remembering these events may be, they are part of our history as Americans. To move forward in the present, we must remember the past, but not dwell in it, and, if possible, right the wrongs that have been made.
For more information regarding how your financial support can help, please click here.