TFFCM Celebrates Black History Month: The Story of Garrett Augustus Morgan, Sr.
Garrett Augustus Morgan, Sr., was born in the town of Paris, Kentucky, on March 4, 1877. His father, Sydney, was a former slave and son of Confederate Colonel John H. Morgan. His mother, Eliza Reed, was also a former slave who happened to be half American Indian. At the age of fourteen, Garrett quit school and moved to Cincinnati, Ohio to work as a handyman for a wealthy landowner. Garrett wanted an education and retained a tutor to instruct him during his stay in Cincinnati. In 1895, Garrett moved to Cleveland, Ohio, to work for a clothing manufacturer repairing sewing machines. It was at this job that Garrett made his first invention a belt-fastener for sewing machines.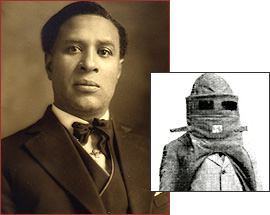 In 1907, Morgan opened a sewing machine and shoe repair shop. In 1908, Morgan established the Cleveland Association for Colored Men and married Mary Ann Hassek, his second wife. They had three children together. In 1909, he and his wife opened, "Morgan's Cut Rate Ladies Clothing Store," where they employed 32 people making coats, suits, dresses, and other clothing.
Garrett Augustus Morgan, Sr., invented a traffic signal device after witnessing an accident. His device like others was manually operated; however, unlike other traffic signal devices Morgan's could stop traffic in all directions to clear the intersection if needed.
Morgan's greatest invention is a respirator safety hood. The hood allowed rescuers to go into a smoky building and rescue its occupants by using a damp sponge to cool the outside air while filtering the smoke from the air. It also had a hose attached that hung from the hood close to the ground allowing the person wearing the hood to breathe clean air. In later years Morgan added an air pack to his safety hood. Morgan's hood was the most widely used safety hood in the country. Unfortunately to attain that status Morgan had to hire a white man who claimed to be the inventor of Morgan's safety hood.
In 1916, Morgan and three other men using Morgan's respirator safety hood made a dramatic rescue saving workers trapped in a water intake tunnel being dug under Lake Erie, after a natural gas explosion and fire which took the lives of workers and the first police officers and firefighters who attempted to rescue them.
Garrett's life is far too great to recount in a short article honoring him and recognizing his many contributions to the comfort and safety of the people of The United States of America during this, the final week of Black History Month.
Garrett died in his hometown of Cleveland, Ohio, on June 27, 1963.
For more information regarding how your financial support can help, please click here.