TFFCM Celebrates Black History Month: The Story of Richard Allen
In the United States of America, the month of February is Black History Month. It is a time to remember the achievements that men and women of color made throughout the history of this country. From a time of slavery to a time of freedom that did not really feel all that free, to a movement that would change the nation forever, men and women of color have played key roles in making a better quality of life for all mankind.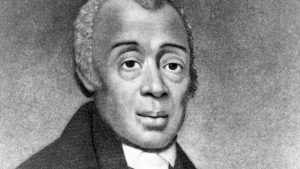 On February 14, 1790, a slave was born to Benjamin Chew, who was a wealthy merchant in Philadelphia, Pennsylvania. The child, named Richard, and his family, were then sold to Stokeley Sturgis, a plantation owner in Delaware. The family was divided up when Sturgis faced monetary problems. Richard remained with Sturgis, along with an older brother and a sister. They continued to serve Sturgis but also began attending meetings of the local Methodist Society, which welcomed all blacks, slaves, and free men. Richard attended classes every week and taught himself to read and write. In 1782, Richard became licensed to preach.
Sturgis, who was a nonbeliever, encouraged Richard's and his family's attendance. Richard said he and his brother decided to "attend more faithfully to our master's business, so that it should not be said that religion made us worse servants." Sturgis, proud of his slaves, would boast to others "that religion made slaves better not worse." He also told Richard to "ask the preachers to come and preach at his house." During that meeting, the white preacher said that slave-owners were "weighed in the balance, and…found wanting." It was a life-changing message.
Sturgis, after converting, "believed himself to be one of that number and, after that, he could not be satisfied to hold slaves, believing it wrong." In January of 1780, Sturgis told Richard that he could purchase his freedom for $2,000. Richard set out to earn the money. He worked for the Revolutionary forces to secure the money for his freedom, eventually taking the surname Allen to signify his status as a free man.
In 1786, Richard was finally able to purchase his freedom. After gaining his freedom, he began preaching to blacks and whites in Maryland, Delaware, New York, New Jersey, and Pennsylvania. Richard would travel, working only when he needed money. "My usual method was, when I would get bare of clothes, to stop traveling and go to work. My hands administered to my necessities," he explained. He would often work as a sawyer and a wagon driver. Richard said that he walked so many miles that his "feet became so sore and painful that I could scarcely be able to put them on the floor."
One day, while preaching near Philadelphia, Richard was approached by a Methodist elder to preach to the blacks who attended St. George's Methodist Church. The service took place at 5:00 am, so it would not interfere with the whites' service. Richard agreed and moved to Philadelphia, where he met his wife, Sarah, who was also born a slave, but had since been freed.
While in Philadelphia, Richard did not limit himself to preaching only at the church. He preached in the common areas of the city where blacks lived. Richard would often preach up to five times a day. In order to support his family, Richard worked as a shoemaker.
Under his care, the number of blacks in the church grew quickly. Richard recognized "the necessity of erecting a place of worship for the colored people." However, many did not support this idea. The white elders of the church where Richard preached "used very degrading and insulting language to us, to try and prevent us from going on. We all belonged to St. George's church…We felt ourselves much cramped; but my dear Lord was with us, and we believed, if it was his will, the work would go on, and that we would be able to succeed in building the house of the Lord." Three additional colored men joined Richard in his quest to build an all-black church: Rev. Absalom Jones, William While, and Dorus Ginnings.
In 1787, Richard Allen and Rev. Absalom created the Free African Religious Society, a non-denomination religious aid society. At the time, both men still worshipped at St. George's. Five years after the creation of the Free African Religious Society, all-black members at St. George's walked out after Absalom, who was praying at the front of the church, was asked to move to the rear of the church. After that incident, the Free African Society began raising money to create a church for Africans.
The church became known as "The African Church of Philadelphia" and was part of the Protestant Episcopal Church of America. Richard, and others who were committed to Methodism, formed the Bethel African Church in 1794. It was the start of a movement. By 1816, several African Methodist Churches were in existence around the country. Together they formed the African Methodist Episcopal Church, and on April 11, 1816, Richard Allen was named the first bishop of the church. Richard worked as a bishop without collecting a salary, as he operated several businesses.
Richard and Absalom remained lifelong friends, despite their denominational differences. They also continued to work together as activists for the local and national black community. In 1793, they worked together to help mobilize the black community to serve during Philadelphia's yellow fever epidemic. They also defended the black community when reports began surfacing of black plundering and profiteering from the disease. Together they wrote two books, documenting the efforts of the black community.
Richard aided the Underground Railroad using his church connections. He also argued against those who wanted to send the blacks back to Africa, however, he did assist in relocating several families to Canada. Richard spoke out against slavery and the derogation of his race. He believed that blacks had a bright future and should have the same rights and responsibilities as everyone else in American society. He went on to exhort blacks to demonstrate that they deserve those responsibilities by cultivating virtues of industry, frugality, and thrift. Black should also be generous and aid those who are less fortunate than themselves.
Richard Allen died on March 26, 1831, but his teachings and beliefs would live on. Other civil rights leaders, such as Frederick Douglass and Martin Luther King, Jr., drew inspiration from Richard and echoed his vision of equal rights for all.
For more information regarding how your financial support can help, please click here.