As a child in Sunday school, King David is larger than life. He was a simple sheep herder, with many older brothers. He likely never expected anything great to happen to him in his life. Yet he grows up to become King of all twelve tribes of Israel! He was a great king, uniting the tribes, defeating his enemies, the stuff of which legends are made!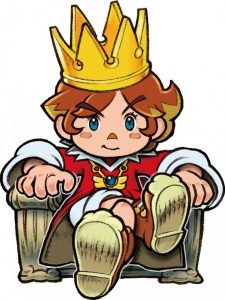 A few years later, in youth group, your picture of David begins to deflate. He was not perfect. He had his sins. In fact, he had some big ones: adultery and murder. Yet he is remembered as a great king, because of his love for God. When he sinned, he earnestly repented of his sins.
As an adult, as a parent, as a father, your image of David may become yet a little more tarnished. You see, David was not a great father. Yes, David set an example for his children on having a relationship with the Lord, but did he explain the importance of that relationship? Did he nurture and guide his children towards their own relationships as they grew? It does not appear to be so, as David frequently failed to correct his children for their misdeeds, nearly leading the nation into civil war! However, David also realized that he was to blame for his children's misdeeds.
Near the end of his life, David actions as a father began to change. He embraced Solomon as the new king, supporting the Lord's plan for him to build the Temple, the Temple which David had so desperately wanted to build. On his deathbed, David gave his final advice to Solomon: When David's time to die drew near, he commanded Solomon his son, saying, "I am about to go the way of all the earth. Be strong, and show yourself a man, and keep the charge of the Lord your God, walking in his ways and keeping his statutes, his commandments, his rules, and his testimonies, as it is written in the Law of Moses, that you may prosper in all that you do and wherever you turn, that the Lord may establish his word that he spoke concerning me, saying, 'If your sons pay close attention to their way, to walk before me in faithfulness with all their heart and with all their soul, you shall not lack a man on the throne of Israel. (1 Kings 2:1-4, ESV) David's final advice to Solomon was to rely on the Lord.
In the end, David's advice was too little, too late. Solomon failed to develop the close relationship with the Lord that David had and eventually turned from the Lord, worshipping other gods. Do not leave your advice to your children until it is too late! Learn from David's mistakes. Start talking with your children about the Lord at a young age and help them grow and develop a loving and strong relationship with the Lord.
We at The Forgiveness Foundation Christian Ministries, Inc. wish all fathers a Happy Father's Day!
For more information regarding how your financial support can help, please click here.