Happy Martin Luther King, Jr. Day
Dr. Martin Luther King, Jr. Fueled His Ride to The Mountain Top With Scripture – Christian Principles of Dr. Martin Luther King Lead The Civil Rights Movement
He was an influential civil rights leader. He was a pastor, a husband, and a father. His words encouraged a generation. Above all, he had a dream. Dr. Martin Luther King, Jr., is most remembered as the civil rights leader. However, what is often left out is that his ideas were rooted in the Scriptures. He was not simply arguing for racial equality, he was arguing for a world that would be flush with the glory of the Lord.
In one sermon entitled Paul's Letter to American Christians, Dr. King styled his sermon as one of the many letters the Apostle Paul wrote. He marveled at the leaps and bounds we have made in science and architecture and laments the failing moral and spiritual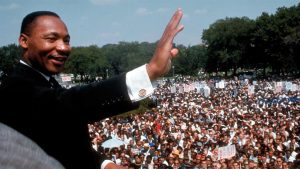 advancements. The theme of the message comes from Paul himself, "Do not conform to the pattern of this world, but be transformed by the renewing of your mind" (Romans 12:2a, ESV). Stand apart from the rest of the world; resist the earthly temptations that do not bring glory to the Lord, rather have faith in the Lord and allow Him to work through you.
Dr. King often drew from the Sermon on the Mount for inspiration, particularly loving your enemies (Matthew 5:44). We are not to like our enemies, to tolerate them, to co-exist with them; we are to love them. Love them without expecting them to reciprocate. We are to be the stronger person, the person who does the right thing no matter what others do.
His most famous speech, the "I Have a Dream" speech is also rooted in the Bible. The speech reaches its apex when Dr. King quotes from Isaiah 40:4-5: "I have a dream that one day every valley shall be exalted, and every hill and mountain shall be made low, the rough places will be made plain, and the crooked places will be made straight; 'and the glory of the Lord shall be revealed and all flesh shall see it together.'" Dr. King did not simply dream of a world with racial equality, he dreamed of a world where all would rejoice in the glory of the Lord.
In his day, Dr. King was considered an extremist by many. It was a title that he welcomed because he stood in good company with our Savior Jesus Christ, the prophet Amos, the apostle Paul, reformer Martin Luther, and former President Abraham Lincoln. To Dr. King, the only question one had to ask themselves is what kind of extremist are you going to be? For evil or for goodness? For justice or injustice?
For more information regarding how your financial support can help, please click here.