Valentine's Day!!
Celebrate the Complete Love of God
How do you show love?
Valentine's Day is often considered a secular holiday, although it is named after St. Valentine. His story, however, is anything but romantic. Little is known about his life, but it is commonly accepted that he was arrested for defying Roman laws and aiding Christians in many ways, including secretly marrying Christian couples. He is thought to have been brutally executed by Roman Emperor Claudius Gothicus (Claudius II) on February 14, sometime during the third century, after he refused to denounce his faith in the Lord.
On the day named after him, many people could not tell you who St. Valentine is or what he did. In a day that is about celebrating love, many will show their love in shallow ways – through gifts and fancy dinners. They fail to remember that love is easy to show when times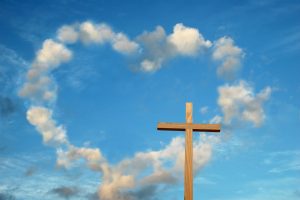 are well. Real love, unwavering love is shown during difficult times. It is shown through sacrifice and the willingness to experience sacrifice because of that love. It is the love St. Valentine had for his Lord. It is the love our Lord has for His children.
"For God so loved the world, that he gave his only Son, that whoever believes in him should not perish but have eternal life." (John 3:16, ESV)
No greater love has been shown throughout history than the love that God has shown for His children. Throughout the Old Testament, God repeatedly showed His love by sparing the Israelites, forgiving them for wandering from Him, and giving them another chance (and another and another and another…). In the New Testament, God showed His love in an entirely new way – He sent us His Son, His only Son, Jesus Christ, to earth, as a man, to die for us.
Who are you willing to die for? Why would you be willing to die for them? God's love for us was so powerful that He was willing to sacrifice His Son, for us to, once again, be able to walk side by side with Him. God's love has been a constant throughout history; and will remain a constant in the future. For He has promised, "I will never leave you nor forsake you." (Hebrews 13:5, ESV)
Valentine's Day is just that, a single day. But God shows His love to us every day! Our very salvation came through love! As Christians, we are to emulate His example and show our love every day! In order to show that love, we must understand what love is.
Take some time this month to evaluate your lifestyle. Are you doing all you can to remain healthy? Do your children know their history? It's never too early, or too late, to start improving your health!
4 Love is patient, love is kind. It does not envy, it does not boast, it is not proud. 5 It does not dishonor others, it is not self-seeking, it is not easily angered, it keeps no record of wrongs. 6 Love does not delight in evil but rejoices with the truth. 7 It always protects, always trusts, always hopes, always perseveres. 8 Love never fails…13 And now these three remain: faith, hope and love. But the greatest of these is love.  (1 Corinthians 13:4-8a, 13, AMP)
The Apostle Paul beautifully describes love. His description comes from his life experience; his personal experience of receiving God's love. It can be easy to forget that this man began his life by persecuting Christians – by advocating for their deaths! Until the day he met Jesus on the road to Damascus. Paul experienced the perfect, wholesome, unconditional love of God. Through God's love, Paul's life was completely changed, becoming a leading figure in the early church, and writing the message we are studying today!
Throughout 2021, The Forgiveness Foundation Christian Ministries, Inc., took an in-depth look at Paul's writing about love in 1 Corinthians 13. Check out our study on Love Is…
Happy Valentine's Day!!
For more information regarding how your financial support can help, please click here.