Job 1-2: Day 005: Journey Through the Bible in a Year
January 6, 2022
Job 1-2
Click here for the reading
Day 005: Journey Through the Bible in a Year
 Focus Verses for Today: Job 2:7-10
Ask the Lord for His understanding of Job 1-2. Then read  Job 1-2. Let's journey!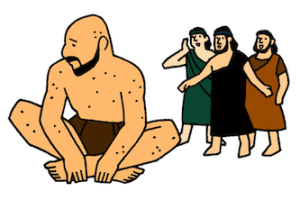 Commentary: The first two chapters act as a prologue to the rest of the book.   They set up the situation for the conversations that take place in throughout the rest of the book. Job was viewed as "blameless and upright; he feared God and shunned evil." Job was also extraordinarily blessed, having wealth, many children, land, and animals. Satan wanted to prove that humans are weak, and, at the first sign of trouble, they would be willing to turn their backs on the Lord. God knew Job, knew his heart, and allowed Satan to do to Job what he wishes, so long as Job's life is spared. Note, and take encouragement in the fact that Satan must seek permission from the Lord before doing anything to Job! God is always in control! Job knows this and, despite the urging of his wife, Job refuses to blame God, accepting his trial. The passage ends with three of Job's friends coming to sit with him while he suffers.
Focus Verses: 2:7-10 – How often do you praise God for the good that He has done in your life? How often are you like Job's wife, quick to curse God for any misfortune in your life? How often are you like Job, praising God through the good and bad?
For more information regarding how your financial support can help, please click here.