Joshua 11-15: Day 017: Journey Through the Bible in a Year
January 18, 2022
Joshua 11-15
Click here for the Reading
Day 017: Journey Through the Bible in a Year
Focus Verses for Today: Joshua 11:17b-19
Take a moment and pray, asking for understanding of today's reading. Read Joshua 11-15. Let's journey!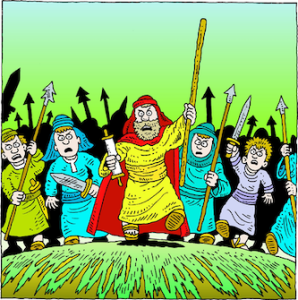 Commentary: Joshua continues to defeat kings and their armies with the help of the Lord. The Israelites also continue to follow the instructions given to them by the Lord, through Moses, to destroy everyone in the cities that they conquer. Although the Israelites have been successful, there is still more land to be conquered. The Lord begins telling Joshua how the conquered land is to be divided among the tribes.
Focus Verses:  Joshua 11:17b-19 Those defeated by Joshua did not worship the Lord. The Lord did not want the Israelites to be tempted away from Him. While we are no longer to kill those who choose not to follow the Lord, we still must not let them lead us astray from the Lord. How have you chosen those with whom you spend time? Towards what do they encourage you?
For more information regarding how your financial support can help, please click here.