Judges 1-6: Day 038: Journey Through the Bible in a Year
February 8, 2022
Judges 1-6
Click here for the Daily Reading
Day 038: Journey Through the Bible in a Year
Focus Verses for Today: Judges 6:13-16

Before we begin our journey today pray for God's understanding of Judges 1-6. Read Judges 1-6. Pray and reflect on what is happening.  Let's journey!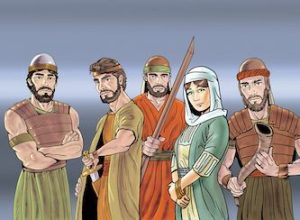 Commentary: Judges in ancient Israel were not the robe and gavel judges we think of today. Instead, the judges in Israel were called to be leaders, usually military leaders, before becoming civilian governors. Judges would often lead the people back to the Lord, however, the people would then once again fall away. The book of Judges begins with the death of Joshua and a summarization of the tribes of Israel. The warnings of Moses and Joshua are realized when Israel soon begins falling away from the Lord because they failed to completely follow the Lord's instructions and completely eradicate their enemies from the land.
The remainder of our reading contains the same story, but with different characters: Othniel, Ehud, Shamgar, Deborah, and Gideon are the judges God sent to save Israel. The people of Israel chose to follow a life of sin. God sends a conquerer to take the people of Israel captive and oppress them. After some time passes, the people of Israel shout out to God and resume worshipping God again. God then uses a judge to deliver the people of Israel from their captors. After the judge dies, the people of Israel resume sinning against God. It is important to remember that God can use anyone for His purpose, even the most unexpected people.
Focus Verses: Judges 6:13-16 – Have you ever felt like Gideon? The least of the least? How can one such person affect great change? Just as the Lord used Gideon, so He can use you? Pray that the Lord will use you and that you will be open to His instructions.
For more information regarding how your financial support can help, please click here.