Psalms 33-35: Day 081: Journey Through the Bible in a Year
March 23, 2022
Psalms 33-35
Click here for the Daily Reading
Day 081: Journey Through the Bible in a Year
Focus Verses for Today: Psalms 33:6-11
Take some time to ask God to reveal Himself to you, to reveal His meaning of the words He gave King David to you, as you read Psalms 33-35. Let's journey!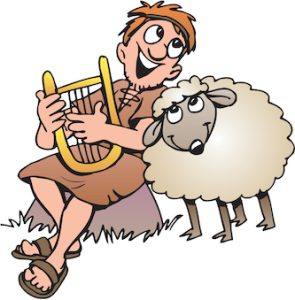 Commentary: The authorship of psalm 33 is unknown. This is a psalm of praise, praising the Lord for His faithfulness to His creation. Psalm 34 is a praise of deliverance. When David was being pursued by Saul, he lived in the remote wilderness. At times his faith was low. During one of these times, David went to the land of the Philistines. The Philistines were concerned about having David around. David realized he was in trouble and acted insane in order to escape. The story is also recorded in 1 Samuel 21:10-15. When David returned to the "safety" of Israel, he was probably thinking that he should have maintained his faith in the Lord. Psalm 35 is the flip side of Psalm 34. In Psalm 34, David praises the Lord for delivering him from his enemies. In Psalm 35, David is pleading with the Lord to deliver him from his enemies. Psalm 35 also was written while David was fleeing and hiding from Saul. It is not up to us to deliver judgment on our enemies. We are to turn them over to the Lord and He will deal with them in His time.
Focus Verses: Psalms 33:6-11 – Oh what a mighty God we have! Sing joyfully to Him! What do you have to celebrate?
For more information regarding how your financial support can help, please click here.