Job 27-28: Day 096: Journey Through the Bible in a Year
April 7, 2022
Job 27-28
Click here for the reading
Day 096: Journey Through the Bible in a Year
Focus Verses for Today: Job 27:2-6
Take some time to ask the Lord to reveal His true meaning of Job 27 and 28 to you. Read Job 27-28. Let our journey begin!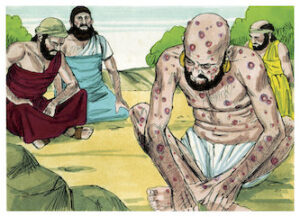 Commentary: Today's reading is a continuation of Job's response to Bildad's third speech. In the first 12 verses of chapter 27, Jobs once again proclaims his innocence of the crimes. The remaining verses in chapter 27 assure us that the wicked will be punished by God. Chapter 28 is sometimes referred to as the Hymn of Wisdom. It covers human skill in mining technology (1-11), wisdom's value (12-19), God's knowledge of wisdom (20-27), and wisdom for mankind (28).
Focus Verses:  Job 27:2-6 – In your times of hardships, times of suffering, are you like Job, committed to preserving your righteousness? Are you committed to righteousness every day? What steps can you take – today! – to live a life more pleasing to the Lord.
For more information regarding how your financial support can help, please click here.