Job 29-30: Day 103: Journey Through the Bible in a Year
April 14, 2022
Job 29-30
Click here for the reading
Day 103: Journey Through the Bible in a Year
Focus Verses for Today: Job 29:20-23
Take some time to ask God for His understanding of our journey through Job 29-30. Read Job 29-30. Let's journey!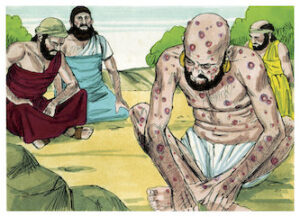 Commentary: Job continues speaking, looking back and longing for the life he used to have, a life blessed by the Lord. In his own mind, or so his reflections suggest, Job wanted for nothing in any aspect of his life. Job is in despair after Satan attacked his family, his health, and possessions. Job believed that a righteous man, as he was, would never find himself in the station of life as he was currently in. In chapter 30, Job laments mockery against him, laments his current situation, and lays out his accusation against God.
Focus Verses: Job 29:20-23 – We have all had times in our lives where we feel as though everything has turned against us. How do you respond? How should you respond?
For more information regarding how your financial support can help, please click here.