Jeremiah 17-21: Day 111: Journey Through the Bible in One Year
April 22, 2022
Jeremiah 17-21
Click here for the reading
Day 111: Journey Through the Bible in One Year
Focus Verses for Today: Jeremiah 18:5-10
Ask God for His understanding of Jeremiah 17-21. Read Jeremiah 17-21. Let's journey!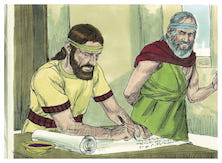 Commentary: The people of Judah had attempted to deceive God through their actions, however, God can see into their hearts. The people refused to follow His Law and they will be severely punished. Jeremiah references God as a Potter, shaping us, His people, into people who can do His works. In chapter 19, Jeremiah smashes several beautiful creations, to show that Judah would also fall and be destroyed. Naturally, Jeremiah's predictions angered some priests, who had him arrested.
Jeremiah became depressed and attempted to resign from his position as prophet of the Lord! Of course, it is not so easy to resign from work for which one has been called by the Lord. In today's final chapter, Judah faces great peril. What does the king do? Turn to the one true prophet, who he had previously mocked, ridiculed, and beaten for speaking God's word. The king, however, was too late. Judah would fall into captivity because they had rejected God for false gods and the fleeting pleasure of sin.
Focus Verses: Jeremiah 18:5-10 – Why is God compared to a Potter? How are we like clay? How is God attempting to mold you? Are you resisting?  Let go!  And submit to God!
For more information regarding how your financial support can help, please click here.