Jeremiah 27-31: Day 125: Journey Through the Bible in One Year
May 6, 2022
Jeremiah 27-31
Click here for the reading
Day 125: Journey Through the Bible in One Year
Focus Verses for Today: Jeremiah 28:1-17
Ask God for His understanding of Jeremiah 27-31. Read Jeremiah 27-31. Let's journey!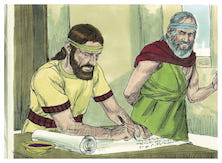 Commentary: The people of Israel refuse to listen to God's chosen prophet, Jeremiah, instead preferring the false prophets who promise peace. And the false prophets continue to try and silence the truth from Jeremiah. Jeremiah sends a letter to captives saying they should not expect a quick return to their homeland. Chapter 30 introduces a new time: Babylon is outside the walls of Jerusalem. The prediction in chapter 28 (which occurred seven years earlier) had obviously not come true. Chapter 30, and continuing throughout the next nine chapters, are the darkest hours for the people of Judah. Yet these remaining two chapters speak of the future greatness for Israel. These chapters provide hope, for their future and for ours, as these promises have yet to be fulfilled.
Focus Verses: Jeremiah 28:1-17 – It is easy to listen to what we want to hear, even if it is not from God. Are you like the people of Israel, refusing to hear the truth and seeking out what is pleasant? Are you challenged in your life to follow God's directions? Do you need to make a change in your life? What?
For more information regarding how your financial support can help, please click here.