Exodus 21-24: Day 128: Journey Through the Bible in One Year
May 9, 2022
Exodus 21-24
Click here for the reading
Day 128: Journey Through the Bible in One Year
Focus Verses for Today: Reader's choice!
Ask the Lord to give you His understanding of Exodus 21-24. Read Exodus 21-24. Let's journey!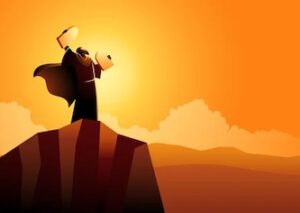 Commentary: The Lord explains the implementation of the Ten Commandments to daily living. It is an explanation of the legal code and moral code of God. God promises to protect the Israelites on their journey to the land that God has promised them provided the Covenant is kept by them. God reaffirms the Covenant with the Israelites. Many of the laws covered in today's reading are considered social laws. Do any of these laws seem familiar? Many have been adapted and helped form the basis of our laws today.
Focus Verses: Reader's choice! Choose a section of the laws given. Why did God give Israel these laws? What was the purpose of the laws? What significance do these laws hold today?
For more information regarding how your financial support can help, please click here.