Job 37-38: Day 131: Journey Through the Bible in One Year
May 12, 2022
Job 37-38
Click here for the reading
Day 131: Journey Through the Bible in One Year
Focus Verses for Today: Job 38:12-15
Before diving into today's reading, ask God for His understanding of Job 37-38. Read Job 37-38. Let's journey!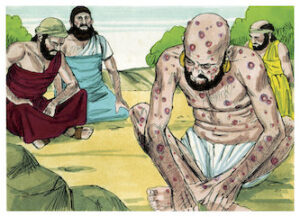 Commentary: Chapter 37 contains the conclusion of Elihu's fourth speech. Elihu glorifies the Lord and admonishes Job. Chapter 38 is what Job has been waiting for: God speaks! Speech after speech, Job implores the Lord to let him defend himself. But God's response is not what Job expects. He asks Job how someone, like Job, without complete knowledge could make a charge or claim against God. God asked Job to explain how Gods' creation worked: how it was held together. God asked Job is he knew how God provided for the care of all creation. Job could not answer. Job did not know the answer. Then how could Job accuse God of being complicit in Job's current situation? God reminds Job of His power and all that He has done.
Focus Verses: Job 38:12-15 – How truly awesome is our God!!! How does this passage make you feel? What does it mean to you? How can it strengthen your relationship with your Savior?
For more information regarding how your financial support can help, please click here.