Luke 1-2: Day 133: Journey Through the Bible in One Year
May 14, 2022
Luke 1-2
Click here for the reading
Day 133: Journey Through the Bible in One Year
Focus Verses for Today: Luke 1:26-38
As we begin our journey through the Gospel of Luke, pray and ask God for wisdom in reading and understanding. Read Luke 1-2. Let's journey!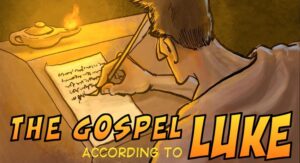 Commentary: The Gospel of Luke is a detailed, chronological account, beginning before Jesus was born. Luke begins with the birth of John the Baptist, who would prepare the way for Christ. Like Jesus, John's birth was also foretold. It was an unexpected, yet joyful occasion. Six months after John's mother, Elizabeth become pregnant, Mary is told that she will be the mother of Jesus Christ. Elizabeth celebrated the birth of John surrounded by family. Mary celebrated the birth of Jesus with only Joseph. Shepherds also came to worship Jesus. From a young age, Jesus demonstrated that even though He was human, He was also the Son of God and possessed amazing understanding of God's word.
Focus Verses: Luke 1:26-38 – Can you imagine the fear Mary must have felt? Yet she was willing. How do you respond when the Lord makes a request of you? Do you have a willing heart?
For more information regarding how your financial support can help, please click here.