Jeremiah 42-46: Day 146: Journey Through the Bible in a Year
May 27, 2022
Jeremiah 42-46
Click here for the reading
Day 146: Journey Through the Bible in a Year
Focus Verses for Today: Jeremiah 42:5-43:4
Ask God for His understanding of Jeremiah 42-46. Read Jeremiah 42-46. Let's journey!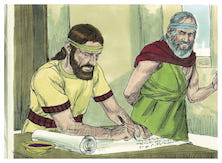 Commentary: Jeremiah's advice is routinely ignored, even when it is asked! A group of Israelites want to leave Judah for Egypt and ask Jeremiah to inquire of the Lord and promise to obey. They do not listen when Jeremiah tells them to remain and even accuse him of lying! Jeremiah is forced to go to Egypt with the group. Chapter 45 returns to the reign of Jehoiakim. Baruch is a friend and assistant to Jeremiah, recording his prophecies and taking them to the king…who cut and burned them. This prophecy is one of encouragement to Baruch. Chapter 46 contains a prophecy of judgment against Egypt by Babylon.
Focus Verses: Jeremiah 42:5-43:4 – Do you ever promise to do something…and then don't do it? A promise to God is binding. Do not go back on your word! Why is it so important to honor your word to God?
For more information regarding how your financial support can help, please click here.