Lamentations 1-5: Day 160: Journey Through the Bible in a Year
June 10, 2022
Lamentations 1-5
Click here for the reading
Day 160: Journey Through the Bible in a Year
Focus Verses for Today: Lamentations 3:23-26
Pray for God's understanding of the book of Lamentations. Read chapters 1-5 of Lamentations. (The entire book.) Let's journey!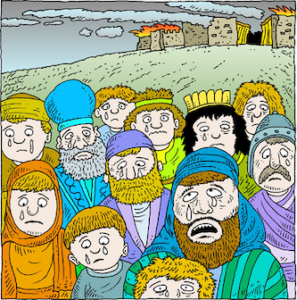 Commentary: Each chapter of this book is a eulogy, a funeral poem, in which the prophet Jeremiah laments the loss of Jerusalem, the temple of the Lord. Jerusalem was destroyed due to the people's rejection of the Lord. The people had become hypocritical – going to the temple, yet failing to live a lifestyle pleasing to the Lord. In chapter 3, Jeremiah reflects upon the past, in which he had predicted the fall of Jerusalem. He was now standing in the rubble of the city. Imagine standing in your ruined and crumbling hometown while reading chapter 4. Jeremiah is describing what he sees. The final lament is actually a prayer, a prayer for the Israelites.
Focus Verses: Lamentations 3:23-26 – Are you willing to wait on the Lord? What happens when you do not?
For more information regarding how your financial support can help, please click here.