Philippians 1-2: Day 176: Journey Through the Bible in a Year
June 26, 2022
Philippians 1-2
Click here for the reading
Day 176: Journey Through the Bible in a Year
Focus Verses for Today: Philippians 2:3-8
Ask God for His understanding of Philippians 1-2. Read chapters 1 and 2 of Philippians. Let's journey!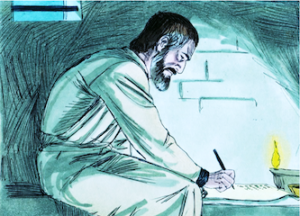 Commentary: Paul begins his letter to the Philippians with his traditional greeting, before telling them that they brought Paul joy through their work. Although it was well known that Paul was in chains for Christ, his imprisonment served to inspire others to continue his work, as all is part of God's plan. Jesus is God, always has been, even before His birth in Bethlehem. Through His birth, He also became human, while remaining sinless. Jesus' serving attitude is one that we are to imitate. Paul also exhorts the Philippians to welcome back Epaphroditus, who nearly died on his way to see Paul, and not to criticize him for not remaining with Paul longer to help him.
Focus Verses: Philippians 2:3-8 – Who have you served today? How can you develop a serving attitude? What changes can you make to your routine to serve others instead of yourself?
For more information regarding how your financial support can help, please click here.