Ezekiel 31-36: Day 202: Journey Through the Bible in a Year
July 22, 2022
Ezekiel 31-36
Click here for the reading
Day 202: Journey Through the Bible in a Year
Focus Verses for Today: Ezekiel 33:1-6
Ask the Lord for His understanding of Ezekiel 31-36. Read Ezekiel 31-36. Let's journey!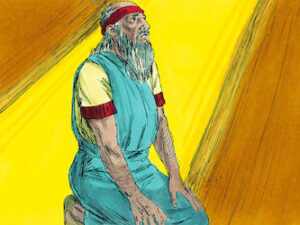 Commentary: We begin today's reading by continuing with the prophecies against Egypt. Chapter 31 contains the 5th of 7 prophecies. It describes the fall of the Cedar (pharaoh) of Egypt. Chapter 32 contains the final two prophecies: the lament for the fall of Pharaoh (1-16) and the pharaoh being condemned to the pit (17-32). The remainder of today's reading concerns future prophecies.
Chapter 33 provides a warning to heed to the watchman (1-9), an exhortation to turn from evil (10-20), and the fall of Jerusalem and Israel's failure to heed the warning (21-33). Chapter 34 can be considered a sequel to chapter 22, as both foretell the coming destruction. In chapter 34, the leaders of Israel are described as shepherds as they are condemned and their removal is announced (1-10) and God announces He is taking over (11-16). The people of Israel are described as sheep and God will judge and deliver them (17-24). In the final verses of the chapter (25-31), a literal message is given to the people with the promise to deliver to them the covenant of peace.
Chapter 35 is a prophecy of judgment against Edom with the declaration of judgment (1-4) and the reason for judgment (5-15). Chapter 36 tells of the repossession of the mountains of Israel (1-15), the reason for the restoration (16-23), the seven elements of the restoration (24-32), and the benefit of the restoration (33-38).
Focus Verses: Ezekiel 33:1-6 – We know that the day of judgment is coming. Are you acting accordingly? What should you be doing that you are not? What are you doing that you should not?
For more information regarding how your financial support can help, please click here.