2 Thessalonians 1-3: Day 218: Journey Through the Bible in a Year
August 7, 2022
2 Thessalonians 1-3
Click here for the reading
Day 218: Journey Through the Bible in a Year
Focus Verses for Today: 2 Thessalonians 2:15-17
Ask God for His understanding of 2 Thessalonians 1-3. Read 2 Thessalonians 1-3. Let's journey!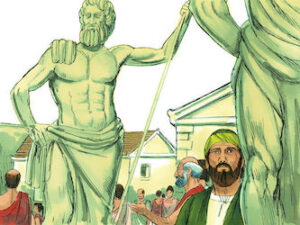 Commentary: This letter was written by Paul, Silas, and Timothy shortly after their first letter to the Thessalonians. The letter begins as many of Paul's letters begin, by thanking God. Chapter 2 reveals the reason for the letter: people were saying that Christ had already returned! Paul assures the Thessalonians that they have not missed Christ's return. Such an event will be impossible to miss, even for unbelievers. We cannot predict the return of Christ and must remain strong in our faith, even when being persecuted, which will happen with more frequency the closer we come to His return. Paul concludes the letter as he has with many others.
Focus Verses: 2 Thessalonians 2:15-17 – Christians have been persecuted throughout time and will continue to be persecuted. Have you ever had your faith tested? How can you remain strong in your faith when challenged by the world? Are you allowing others/the world to dictate how you serve Christ?
For more information regarding how your financial support can help, please click here.