1 Chronicles 1-4: Day 220: Journey Through the Bible in a Year
August 9, 2022
1 Chronicles 1-4
Click here for the reading
Day 220: Journey Through the Bible in a Year
Focus Topic for Today: Genealogy
Before starting today's journey, take some time to pray, asking God to reveal His wisdom for 1 Chronicles 1-4. Read 1 Chronicles 1-4. Let's journey!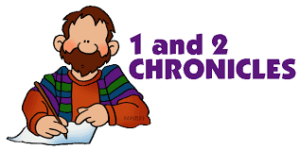 Commentary: The books of Chronicles are extremely similar to the books of Samuel and of Kings. They cover the same events, however, the way they cover the information is different. Samuel and Kings are inclusive historical records, while Chronicles records the history that is deemed important by the Lord. Today's reading consists of genealogy. The Israelites, after being in captivity for 70 years, have been released by the Persians. Those who return to Jerusalem find a city destroyed by the Babylonians, without a familiar landmark. Those who returned, most likely, never set eyes on Jerusalem in its glory. In the first chapters of 1 Chronicles, the chronicler is using genealogy to connect the returning captives to who they are. Notice the chronicler starts his genealogy with Adam, God's first created.
Focus Verses: There are no specific verses for consideration today. Instead, consider why genealogy is deemed important. What is its purpose? Where else is genealogy recorded in the Bible? Why?
For more information regarding how your financial support can help, please click here.