1 Timothy 1-3: Day 225: Journey Through the Bible in a Year
August 14, 2022
1 Timothy 1-3
Click here for the reading
Day 225: Journey Through the Bible in a Year
Focus Verses for Today: 1 Timothy 2:9-15
Ask God to give His true meaning of 1 Timothy 1-3 to you. Read 1 Timothy 1-3. Let's journey!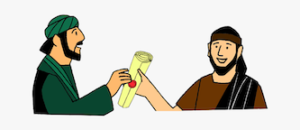 Commentary: Although Paul addresses this letter to Timothy, it was expected that the letter would be shared with the church at Ephesus. By addressing Timothy as his true son, Paul not only encourages Timothy but also lends credence to Timothy's teachings. Timothy is in Ephesus to warn against the false teachers and leaders who promote salvation through any except faith in Jesus Christ. Paul also provides various instructions for worship and requirements for leaders within the church.
Focus Verses: 1 Timothy 2:9-15 – Paul's advice to women may today seem archaic, but consider the time in which Paul was writing. Paul was not seeking to exclude or demean women, however, he was stressing orderly worship. What is the overall message behind Paul's words? How can that message be applied today?
For more information regarding how your financial support can help, please click here.