1 Chronicles 5-9: Day 227: Journey Through the Bible in a Year
August 16, 2022
1 Chronicles 5-9
Click here for the reading
Day 227: Journey Through the Bible in a Year
Focus Topic for Today: Genealogy
Ask God for His understanding of chapters 5-9 of 1 Chronicles. Read 1 Chronicles 5-9. Let's journey!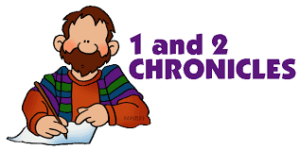 Commentary: Today's reading continues with the genealogy that began last week. This book was written when the Israelites were returning to Jerusalem from their captivity by the Babylonians. They would have had doubts and fears; that God had abandoned them. The genealogy proves the history of Israel. It tells from where the Israelites came, who their ancestors were, and how they came to be settled on the land they are now once again occupying. It reassures the Israelites that God has been part of their lives since Adam and he would continue to always be a part of their lives.
Focus Verses: There are no specific verses for consideration today. Instead, consider why genealogy is deemed important. Do you know your family's genealogy? Do you know your history as a child of the Lord?
For more information regarding how your financial support can help, please click here.