2 Timothy 1-2: Day 239: Journey Through the Bible in a Year
August 28, 2022
2 Timothy 1-2
Click here for the reading
Day 239: Journey Through the Bible in a Year
Focus Verses for Today: 2 Timothy 2:3-7
Ask the Lord to reveal His true meaning of 2 Timothy 1-2 to you. Read 2 Timothy 1-2. Let's journey!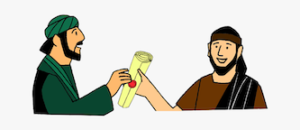 Commentary: This letter is a direct follow-up to 1 Timothy. Timothy received the letter while he was in the Asia Minor, perhaps Ephesus. When writing, Paul knew that this would likely be one of the last letters he wrote. It is a very personal letter, as a father would write to a son. Paul opened this letter as he did nearly all of his letters. Paul encourages Timothy to remain strong and faithful to the Lord and assures Timothy of his love. Paul warns against false teachers and warns Timothy to not be swayed by them but to remain faithful to the Lord and follow His word, not the way of the world.
Focus Verses: 2 Timothy 2:3-7 – Follow Paul's instructions. What are these verses saying? How can you follow Paul's instructions?
For more information regarding how your financial support can help, please click here.